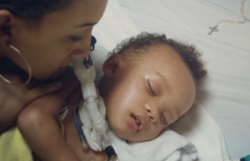 Sacramento, California (PRWEB) July 22, 2016
The parents of Israel Stinson, a 2-year-old Sacramento boy who was diagnosed in April as brain dead at Kaiser Permanente Roseville Medical Center, announced today that their son was, last month, cleared of a brain death diagnosis. He is now able to return from a receiving hospital in Central America, to the United States.
Israel suffered an asthma attack on April 1, which led to the contested brain death diagnosis and Israel's parents' struggle to save their son.
The toddler was quietly transported out of the US in the early hours of May 21 in an effort to save his life. At the time, no American hospital could be found to receive him.
The Save Israel Team continues to raise funds with a GoFundMe campaign.
For seven weeks, Israel lingered at Kaiser Permanente on intravenous Dextrose (sugar) while his parents worked to transfer him to a new medical facility. A transfer was later secured as a new hospital stepped forward willing to receive the pediatric patient.
After hundreds of requests were made to US based hospitals, the "Save Israel" team turned to facilities outside the US. A non-profit Catholic hospital in Central America agreed to receive Israel and on May 21 the toddler was transported by AirCare 1 International to the facility.
Support for Israel may be given through GoFundMe.
Israel arrived suffering from malnutrition, after fifty days on Dextrose alone, as well as pneumonia, and colitis. He was also on multiple medications to maintain his blood pressure. The new hospital provided Israel with lifesaving nutrition, including much-needed vitamins, fats, electrolytes and proteins. His health quickly improved and the hospital performed a tracheostomy and gastrostomy so that Israel. I also could be transported back to a long-term care facility in the United States.
A pediatric neurologist confirmed via EEG and other tests that Israel suffers from brain damage but not brain death. While Israel continues on a ventilator, his blood pressure is normal without medications and now, six weeks later, he must make the journey home to the US to continue his recovery.
Based on his new diagnosis and restored physical health, Israel's family is seeking an American hospital that specializes in brain injuries to receive him anonymously. Meanwhile, the family is reliant on their GoFundMe donors to bring Israel home.
Flight costs alone are significant and despite $25,000 raised on GoFundMe, the family must raise another $50,000 to bring Israel home and prepare for the next level of recovery.
"We have been so grateful to Life Legal Defense Foundation and many supporters for the help to continue to cross bridges as we come to them for Israel's sake," said Jonee Fonseca, Israel's mother. "So many believe in our cause and we continue to talk with new hospitals so he can return home to the US right away. We took this risk for Israel's sake. Now we have to get him back to the US for further treatment."