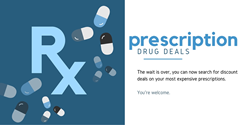 Tampa, FL (PRWEB) April 01, 2016
Save On Medical is excited to announce that as of today, patients can use http://www.saveonmedical.com to compare prescription drug costs in their area. By using Save On Medical's price transparency tool, patients can save up to 35% on all of the most popular prescription drugs. By comparing prices at different pharmacies with Save On Medical, patients can find the best deal.
To use the website, patients simply search for the prescription they need by typing in their zip code and clicking "Search." Patients will then see a list of local pharmacies and what they charge for the drug. Lastly, patients just download the Save On Medical pharmacy savings card to take advantage of the deal and present it to their pharmacists.
Matt Schneider, Save On Medical CEO commented on the news saying, "We're really excited to finally launch the drug comparison capability. With 48.7% of Americans having used at least 1 prescription drug in the last 30 days, the ability to find affordable options is of the utmost importance."
Drug prices are soaring. Of the $263 Billion spent on prescription drugs in 2012, a whopping 18% was paid for out-of-pocket. Save On Medical's mission is to help Americans save money on out-of-pocket medical expenses by giving them access to a tool that helps compare their options. Find out how much you could save on your prescription drugs by comparing costs at https://www.saveonmedical.com/prescription-drug-prices.
About Save On Medical: Save On Medical is an online marketplace for medical procedures that uses price transparency to help patients make informed care decisions based on cost, quality or convenience —similar to the way Expedia does for travel. Providers are then able to advertise their pricing, collect up-front payment and fluctuate prices based upon demand.