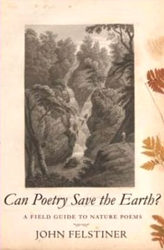 ...winning poems reflect an awareness of the natural world...
Millbrook, NY (PRWEB) July 16, 2014
John Felstiner, Professor Emeritus, Stanford University and Charles Weeden, The Weeden Foundation are delighted to announce the 2014 contest winners:
Nisaa Hawa, Nairobi Academy, Nairobi, Kenya
Rachel Baxter, Phillips Exeter Academy, Exeter, NH
Janet Chen, Alameda High School, Alameda, CA
Jessica Marino, Carnegie Vanguard, Houston, TX
Hope Rodriguez, Onate High School, Las Cruces, NM
Stella Rounsefell, Aiken High School, Aiken, SC
Kai Zhu, Roosevelt High School, Seattle, WA
The Save the Earth Poetry Contest is an annual contest for 11th and 12th grade students for poems evoking humankind's awareness of the natural world and nature as such. The contest is based on John Felstiner's book, Can Poetry Save the Earth? A Field Guide to Nature Poems.
"We welcome our first international winner, Nisaa Hawa from the Nairobi Academy," says Charles Weeden, Contest Director. "Nisaa's poem, The Truth within beauty, expands the sense of nature which all of these winning poems so effectively communicate."
Please read these poems on our website, http://www.savetheearthpoems.com or email comments to: savetheearthpoems(at)gmail(dot)com.
The 2015 Save the Earth poetry contest will open on March 1, 2015 to high school poets. There is no charge for students to enter.