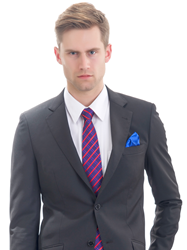 SavileRowOnine.com - Best Men's Bespoke Fashion Marketplace
New York, NY (PRWEB) April 12, 2014
Men's wear company, Savile Row Bespoke LLC., is proud to announce the launch of SavileRowOnline.com, an online store that was made available in the United States on April 1st. Savile Row Bespoke LLC. creates custom-made clothing for customers.
SavileRowOnline.com assist clients to select top of the line quality fabrics and customize their own clothing with detail. Customers can decide the color of buttons, trims, and collars. Savile Row currently offers custom men suits, custom shirts, and pants to over 40 different countries.
Bespoke tailoring is the only way for men to customize their clothing to best reflect their personal style and personality. Men can make decisions about every detail of their clothing with hundreds of options to design what they want not what is available. Each man has a different shape, and it is important for him to personally style clothing that would fit best.
By expanding to online sales, SavileRowOnline.com is able to expand their reach to worldwide customer base while providing quality products to customers across the globe. The brand prides itself on customer service, quoting, "We can proudly say once a customer, always a customer…. We do whatever it takes to provide clients with the very best shopping and after sales experience starting with world-class fabric, custom design, and tailoring. We ensure that our client's shopping and product ownership experience exceeds their expectations, and we do so with a 100% satisfaction guarantee."
Savile Row Bespoke is a high quality men's clothing brand with facilities in United States, United Kingdom, Hong Kong and Latin America. SavileRowOnline.com is an initiative to provide Savile Row's high class yet affordable bespoke tailoring services to customers online and Keep Savile Row London's Bespoke Tailoring 300 years old heritage alive and thrive. The brand is on mission to provide customers with a great, personalized experience when seamlessly creating an outfit. Customers can rest assured that Savile Row Bespoke LLC. is an environmentally friendly brand, and every sale contributes to helping the environment.