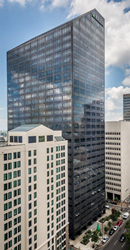 The opportunity accommodates all employees on a single, dedicated floor, and facilitates the collaboration and interaction essential to the company's operating philosophy.
NEW ORLEANS (PRWEB) January 03, 2019
Savills Studley today announced the successful completion of a 22,594-square-foot lease for Accruent's first regional office in New Orleans. The company will occupy the entire sixth floor of 400 Poydras Tower, a 32-story, Class A office building in the city's Central Business District. The new offices will house approximately 150 employees, with move-in scheduled for the first quarter of 2019.
"New Orleans is one of the fastest growing technology hubs in the country, and it was imperative for our company to have a presence here," said Kirk Orgeldinger, CFO of Accruent. "The area has an outstanding university system, an affordable cost of living, and a vibrant and authentic culture. These attributes support our focus on designing an exceptional employee experience, and make it great base from which to attract talent and serve our clients."
Headquartered in Austin, Texas, Accruent is the leading provider of physical resource management solutions and has 29 offices around the world.
Marcus Arredondo of Savills Studley represented the tenant in the long-term transaction, along with Jordon Johnson of Beau Box Commercial Real Estate.
Arredondo said: "After an extensive analysis of the marketplace, we determined that 400 Poydras was best suited to Accruent's needs. Most significantly, the opportunity accommodates all employees on a single, dedicated floor. This facilitates the collaboration and interaction essential to the company's operating philosophy. Additionally, competitive transaction terms build in lease flexibility, including options to expand or contract as needed, and provide for monument signage."
Owned by an affiliate of Hertz Investment Group, 400 Poydras Tower is a prominent 606,000-square-foot office tower, strategically located in the city center and within walking distance of cultural, retail and hospitality amenities. Designed by Skidmore, Owings & Merrill, the façade is clad in black granite, with insulated glass set into black aluminum framing. The building plaza features the sculpture "Painted Trio," by Dr. Arthur Silverman, and the lobby area serves as a gallery for a collection of regional artwork. Onsite services include a bank, convenience store and sandwich shop.
Cres Gardner, CCIM and SIOR, of Beau Box Commercial Real Estate is the leasing agent for the building.
About Savills Studley
Savills Studley is the leading commercial real estate advisory firm specializing in tenant representation. Founded in 1954, the firm pioneered the conflict-free business model of representing only tenants in their commercial real estate transactions. Today, supported by high quality market research and in-depth analysis, Savills Studley provides strategic real estate solutions to organizations across all industries. The firm's comprehensive platform includes brokerage, project management, capital markets, consulting and corporate services. With 31 offices in the U.S. and Canada, and a heritage of innovation, Savills Studley is well known for tenacious client advocacy and exceptional service.
The firm is part of London-headquartered Savills plc, the premier global real estate service provider with over 36,000 professionals and more than 600 offices in over 60 countries around the world. Savills plc is listed on the London Stock Exchange (SVS.L).
For more information, please visit http://www.savills-studley.com and follow us on LinkedIn and Twitter @SavillsStudley.
About Accruent
Accruent is a global software company that helps organizations achieve superior performance by transforming how they manage their physical resources. Its innovative, industry-leading cloud-based software and services enable organizations to optimize all stages of real estate, facilities and asset management, from capital planning through to IoT-based monitoring and control. With a proven track record across two decades, Accruent has created the only integrated SaaS-based framework and reporting platform for full lifecycle physical resource management. More than 10,000 global customers depend on Accruent solutions to drive out hidden costs, extend asset lifecycles, protect their brands, ensure compliance and deliver on the missions of their organization. Headquartered in Austin, Texas, Accruent serves a wide range of industries in 150+ countries around the world.
For more information, please visit http://www.accruent.com.