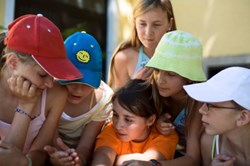 San Francisco, CA (PRWEB) December 12, 2013
The National Financial Educators Council (NFEC) has developed the first crowdfunding platform designed for long-term financial security and personal finance education – SavingsFund.
SavingsFund was developed by the NFEC through their social enterprise fund. The objective is to give families a way to raise funds for their child's future with the help of their family and friends. This platform also provides timely financial education resources that can improve their financial capabilities and personal finance knowledge.
According to econsultancy.com, in 2012 there were about 530 crowdfunding platforms. Of those only SavingsFund is focused on helping children save money and pick up financial literacy skill sets.
This innovation provides timely financial education lessons as their savings fund grows. When families register they will receive the NFEC's Family Money Talk guide which helps parents start teaching kids about money. For instance, once gift recipients build up their first $100 dollars they receive lessons on account management. Lessons continue to be delivered as the total amount of money saved grows.
Leveraging the latest technology and trends in the space, SavingsFund offers a unique approach to families seeking to save for their child's future. With college costs expected to be over $200k for a state school and $400k for a private school in 2032, SavingsFund developers contend many families could not afford this unless they start saving early.
The NFEC is a social enterprise financial education organization that developed SavingsFund to improve the financial capability and savings rate of people around the world. The NFEC develops cutting edge educational material and partners with celebrities and positive influential role models to raise awareness for the financial literacy movement.