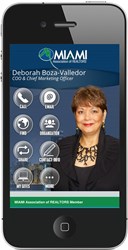 Being able to deliver a high quality mobile website for an MLS property within minutes – and being able to share it on social media platforms like Twitter, Facebook and Pinterest – is an absolute game changer.
Miami, FL (PRWEB) September 26, 2013
Randy Heffernan was ahead of the curve – way, way ahead. The successful Tampa Bay-based Realtor first set up a SavvyCard over a year ago, and since then he's been using the mobile marketing tool to spread the word and generate referrals for his business. Today, he's joined by 30,000 Realtor members of the MIAMI Association of REALTORS® as MIAMI and Tampa-based startup SavvyCard officially launch the SavvyCard MIAMI program at the MORE Conference in Miami and the Developer Showcase and MORE Conference in Broward, two events that feature marketing and business generation seminars, presentations, exhibits and educational opportunities for MIAMI's member attendees. Randy's pretty sure MIAMI's Realtors are going to be amazed. "SavvyCard is a tremendous marketing tool – it gives me a lot of advantages when it comes to connecting with people. And that's vital in this business."
SavvyCard is a platform for generating mobile-optimized mini-websites that can be easily – and virally – shared between smartphones or other web-enabled devices. Heffernan finds that invaluable: "People have their smartphones with them all the time. Once someone sends my SavvyCard to a potential client, they can easily call, email or text me, get directions to my office, read my professional profile, get to my website or social media accounts and connect with other home related service providers I routinely recommend." Most importantly, SavvyCard has built-in sharing functions that make it simple for those contacts to pass Randy's information on to their friends. "It's like they can make a copy of my business card and pass it along, anytime they find out a friend is in the real estate market. And whenever a referral is passed, I get notified so I can follow up in real-time."
The MIAMI launch features specialized Realtor SavvyCards that have a built-in "Listings" button that lets buyers search MLS for houses without leaving the Realtor's card. Homes found in this manner are automatically linked back to the Realtor so that the buyer is encouraged to work with that Realtor, even if the property isn't their listing. This function will help realtors reclaim some power from aggregator sites like Zillow and Trulia, which aim to remove realtors from the home buying equation. This is great for realtors, but it's also great for customers: despite predictions to the contrary, it turns out people like their realtors more than they like impersonal searches. "Our goal is to help home buyers and sellers connect with the perfect Realtor for their particular needs", says SavvyCard CEO, David Etheredge. "We believe this is best done through direct referrals from trusted local sources."
SavvyCard is rolling out another service for MIAMI that association executives label as "disruptive technology": the ability for Realtors to instantly create a mobile real estate website for any MLS listing. Called "Property SavvyCards", these mobile websites are a fast, compelling, and social-media-optimized way to keep buyers updated about new properties, and that kind of powerful tool helps Realtors land more listings with sellers. "Home sellers have become increasingly savvy and often interview several agents before listing their property", says MIAMI COO & Chief Marketing Officer Deborah Boza-Valledor. "Each listing can be worth thousands of dollars, so there is tremendous competition among agents to show that they can provide the best marketing resources. Being able to deliver a high quality mobile website for an MLS property within minutes – and being able to share it on social media platforms like Twitter, Facebook and Pinterest – is an absolute game changer."
Property SavvyCards aren't just for sellers' agents. Buyer's agents will be able to use the service to market hot properties to their customers as well. "In a market like Miami, a highly desirable property may be under contract within hours of being listed", says Boza-Valledor. "Using SavvyCard, MIAMI Realtors will be able to present new listings to their customers almost immediately and in a format that is easy to evaluate on their smartphones."
SavvyCard plans to add new features and functionality to the SavvyCard MIAMI system on an ongoing basis.
About SavvyCard®
SavvyCard empowers anyone to easily build sharable, mobile optimized websites that can be tailored for any use. SavvyCards can be shared via email and text, allowing users to pass on persistent, information-rich referrals for people, products and services they love – whether or not the recipient is a SavvyCard user. SavvyCard is a great platform for spreading the word about everything from an upcoming event to a favorite musician to a trusted business partner, in a bite-sized, easy to read package perfect for mobile and ready to go viral. With SavvyCard's powerful backend, users can track their own SavvyCard's journey across their network, and follow up on referrals in real time. For more details or to sign up for a free SavvyCard account, visit http://www.SavvyCard.com.
About the MIAMI Association of REALTORS®
The MIAMI Association of REALTORS® was chartered by the National Association of Realtors in 1920 and is celebrating 93 years of service to Realtors, the buying and selling public, and the communities in South Florida. Comprised of four organizations, the Residential Association, the Realtors Commercial Alliance, the Broward County Board of Governors, and the International Council, it represents more than 30,000 real estate professionals in all aspects of real estate sales, marketing, and brokerage. It is the largest local Realtor association in the U.S., and has partnerships with more than 100 international organizations worldwide. MIAMI's official website is http://www.miamire.com.