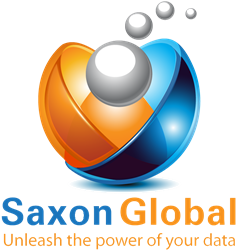 New website with enhanced interactive features will enable more users to view and receive informative, case studies, newsletters and white papers across Enterprise Mobility, BI, Big Data & Cloud, said Gopi Kandukuri, Founder & CEO – Saxon Global
Texas/Bangalore (PRWEB UK) 5 May 2014
Saxon Global, the leading provider of Business Intelligence, Mobility, Big Data and Cloud, today announced the release of the new and improved popular http://www.saxonglobal.com site, with new and enhanced interactive features. The newly re-aligned services of Saxon Global, now adds in the ground-breaking Enterprise Mobility Solutions, post the recent acquisition of Wit Innovation.
Speaking on the occasion, Gopi Kandukuri, Founder & CEO – Saxon Global said, "Our clients from across Finance, Healthcare, Banking, Insurance, Fast Casuals, Manufacturing, Retail and more, trust the Saxon Global team for architecting the most innovative and the next-generation technological solutions. Our newly launched website with enhanced interactive features will enable more users to view and receive informative, case studies, newsletters and white papers across Enterprise Mobility, Business Intelligence, Big Data & Cloud. Our Leadership Team will also contribute regularly via Blogging about their rich customer experiences and business learning's for our growing user base."
The new Saxon Global Website (http://www.saxonglobal.com) includes the following site enhancements:
■ Improved Structure and Navigation: The site has been redesigned for an improved spacious layout, including an intuitive navigation with a more standardized menu structure.
■ New re-aligned service offering enhancing Enterprise Mobility Solutions.
■ Downloadable Case Studies, Newsletters and White Papers
■ Reflection of acquisition of Wit Innovation
Saxon Global has grown exponentially in last few quarters and their recent acquisition Wit Innovation puts them on high growth trajectory due to new added services.
About Saxon Global - (http://www.saxonglobal.com)
Saxon Global is one of the fastest growing Inc 500 Companies, providing IT consulting and solution engineering services. Saxon global has helped organizations across industries such as Financial Services, Retail, Telecom, Healthcare and Media Entertainment to successfully adopt IT tools and services for their continued growth. We in our constant endeavor to excel and forward looking approach have strengthened our skills and expertise in emerging areas of Big Data and Business Intelligence.
Saxon Global has created proprietary IP's for providing custom specific solutions in reduced least times and lowest cost. These frameworks have helped organizations big and small to quickly recognize the power of data and reap huge dividends from deep dive analytics.
For further details, please contact –
Mahima T Shrestha
+91 99163 59570 (Timezone : IST)
mahima(dot)s(at)saxonglobal(dot)com
Tausif Malik
+7737099154 (Timezone – EST)
tausif(at)mediavalueworks(dot)com