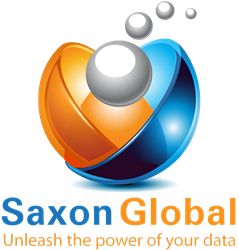 Irving, TX (PRWEB UK) 19 June 2014
Saxon Global Inc., a leading provider of enhanced IT consulting, and engineering solution services, today unveiled 'Edhita' a unique multi-faceted Web 3.0 enabled intuitive platform with an architecture to horizontally scale commodity clusters on private or public cloud.
Edhita is targeted to bridge the gap between Big Data Technologies and internal/external Business Data Sources. With capabilities to map data services, Edhita is designed to crawl across SQOOP Social Media Connectors, can hive into integrated business and semantic servers and can manage large scale data storage.
Speaking on the occasion, Gopi Kandukuri, CEO Saxon Global said, "In our constant endeavour to research to excel we have captured, developed and strengthened our expertise in emerging technologies. Edhita is one such solution that aims to offer clients to meet with their business challenges by capturing real-time internal /external data across Web 1.0, 2.0 & 3.0 platforms across hundreds of verticals."
Adding Haricharan, VP – Sales & Marketing, Saxon Global said, "There is an increasing need globally, where departments express their need to prototype new concepts/metrics before commissioning it into their business processes. Edhita helps qualify and establish processes by developing custom apps to get data, build knowledge base and derive insights. Saxon Global partners with industry leading technology experts to create a compelling technology stack and drive the benefits for our esteemed customers through our skilled resources and deep vertical market expertise."
Businesses leave their digital footprint on various digital properties. These large amounts of data are pulled intelligently and mapped using patterns to present targeted business profiles across geographies, size and categories.
About Saxon Global: http://www.saxonglobal.com
Saxon Global is one of fastest growing Inc. 500 Company providing IT consulting and solution engineering services. Saxon Global today partners with industry leading vendors of Business Intelligence and Big Data technologies to create a compelling technology stack and drive the benefits of this to their esteemed customers through a rich talent pool of data architects and engineers.
Media Contact:
Mahima T Shrestha
+91 99163 59570
Mahima.s(at)saxonglobal(dot)com
Rachana Chowdhary
+91-9619776084
rachana(at)mediavalueworks(dot)com