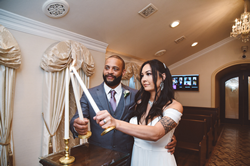 We are excited that we now have the option where couples can see their guests during their ceremony as they are exchanging vows and have their first kiss.
LAS VEGAS (PRWEB) January 26, 2021
Couples from around the world planning their upcoming wedding have been anxiously waiting for word of when it will be safe to gather for their special day. With many states limiting the capacities of weddings during the global pandemic, newly engaged couples have decided to postpone their ceremonies or elope in Las Vegas.
Just in time for Valentine's Day weddings, Chapel of the Flowers has come up with a creative solution to have wedding guests safely attend ceremonies at their iconic Las Vegas wedding venue. The chapel just released their new "Zoom Wedding Broadcasting" feature that allows loved ones to virtually attend a ceremony from the comforts of home. Simultaneously, newlyweds getting married at the chapel will see their wedding guests on high-resolution television screens wall mounted in the back row of the chapel.
"Our couples have loved our online broadcasting for over 20 years," says Donne Kerestic, CEO at Chapel of the Flowers. "The wedding live stream has always been a one-way viewing experience, and couples don't know who is watching. We are excited that we now have the option where couples can see their guests during their ceremony as they are exchanging vows and have their first kiss."
Chapel of the Flowers was one of the first Las Vegas wedding chapels to offer live wedding videos on their website. Each of their four indoor ceremony locations is equipped with high-definition cameras and operated by a highly skilled video technician. The professional videographer will edit the live online feed in a control room outside the ceremony space to avoid being captured in the background of candid wedding photos.
Like many other businesses, Chapel of the Flowers had to adapt to performing ceremonies during the pandemic. Some weddings have guest counts that exceed the Government mandated reduced capacity.
"We have also been using the TV monitors for overflow viewing," exclaims Donne. "Some guest counts are larger than the capacity allowed. If the Victorian Chapel is available, we can take the late arrivals or guests that don't fit in the chapel space and live stream the ceremony to watch on-site. This way, guests won't miss the ceremony."
With couples opting for small weddings now and celebrating with larger receptions later, the chapel is excited to offer the new "Zoom Wedding Broadcasting" exclusively in their Victorian Chapel location. Ceremony broadcasting is included in most of the chapel's all-inclusive wedding packages, along with Facebook Live options in their simple celebrant ceremony packages.
About Chapel of the Flowers
Chapel of the Flowers has been celebrating 60 years of love on the Las Vegas Strip. Located near the Arts District in Downtown Las Vegas (1717 Las Vegas Boulevard South), they are the largest free-standing chapel in Las Vegas.
Marrying over a quarter of a million couples, Chapel of the Flowers is known for its first-class wedding planners, ceremony & reception wedding packages, professional wedding photographer, and on-site floral shop. The expansive acre property features five newly renovated indoor and outdoor wedding locations perfect for an intimate elopement or larger celebrations with space up to 88 guests. From garden weddings to elegant ceremonies, the chapel has a ceremony space for almost any style.
The top-ranked chapel has earned top recognition and awards on TripAdvisor, The Knot, and Las Vegas Review Journal's Best of Las Vegas. Chapel of the Flowers has also been featured in the media on TLC shows, "Say Yes to the Dress" and "90 Day Fiancé", as well as music videos for Carrie Underwood "Last Name" and Rascal Flatts "Why Wait".
In 2020, Chapel of the Flowers rolled out their "Safe and Clean Program," which is their initiative to keeping couples, guests, and employees safe while performing unforgettable Las Vegas weddings. This COVID safety program was created to help stop the spread of the coronavirus by using CDC and Government guidelines with a robust cleaning routine using EPA/ FDA certified products and safety equipment. For more information, visit the company's coronavirus Safe and Clean Program post, available on Chapel of the Flowers' wedding blog.
Chapel of the Flowers aims for excellence and is honored to be one of the preferred Las Vegas chapels in the "Wedding Capital of the World".
###
Media Contact
Michelle Goldberg,
Head of Marketing
http://www.littlechapel.com
Phone: 702-735-4331
Email: media (at) littlechapel.com