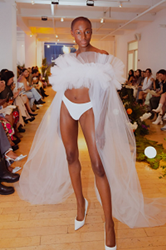 "When the world shut down, I was able to see clearly through the fog a gap for brides in the fashion market that no one was filling. So I went ahead and did it. I ventured into the night and created a new segment of couture for luxury bridal swimwear." says Demi Thomas, founder of La Chenille
NEW YORK (PRWEB) October 20, 2022
La Chenille, the new black woman-owned luxury bridal beachwear brand, launched its collection at New York Bridal Fashion Week on October 14th. La Chenille's SS23 collection, Enchanted Moonlight, is inspired by the wild and graceful flowers that bloom under the light of the moon. The gardenia, moonflower, and casablanca lily are all featured in the romantic appliques nestled between the flowing beaded and sequined tulle, meant to replicate the iridescent glow of the moon.
Brides who are seeking ways to incorporate luxury into their bachelorette parties, beach weddings, honeymoons, elopements, etc. can find a sumptuous piece from La Chenille. With swimsuits ranging from $1,300 to $2,000 and cover-ups from $1,500 to $6,500, each detail is designed with the most durable and lush materials available. Each piece is hand-washable so brides don't have to worry about the sand or ocean water on their special day. This includes the patent-pending detachable bridal train that can be put on or taken off of any swimwear look in seconds.
"When the world shut down, I was able to see clearly through the fog a gap for brides in the fashion market that no one was filling. So I went ahead and did it," says Demi Thomas, founder and designer of La Chenille. "I ventured into the night and created a new segment of couture for luxury bridal swimwear."
La Chenille is available at lachenillebridalbikini.com. Sizes range from small to large. The SS23 collection will be available as of February 2023.
Follow on IG @lachenillebridalbikini
SHOW SPONSORS: Summer Water, Freixenet & The Makeup Academy of New York