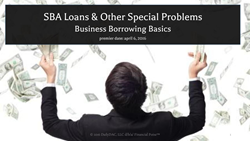 CHICAGO, IL (PRWEB) March 23, 2016
Cash is the lifeblood of any business. While some companies operate solely with their own working capital, most must borrow money from time to time. Borrowing, of course, includes something as mundane as buying goods or services on credit (whether on credit terms or by using a credit card). But most companies of any significant size have a revolving line of credit or a term loan, or both, with a bank or other company that is in the business of lending. This webinar series explores where companies should look for business loans, how to negotiate them, and what to do if they default under them.
As with all Financial Poise™ webinars, each episode in the series is designed to be viewed independently of the other episodes, and listeners will enhance their knowledge of this area whether they attend one, some, or all of the programs.
Episode #3 of the BUSINESS BORROWING BASICS 2016 series is "SBA Loans and Other "Special Programs"." (Register Here). Moderator Christopher Cahill of Lowis & Gellen will be joined by panelists Tom Huffman of Wintrust Bank, Karen Lennon of Wessex504 Corporation, Greg Rotter of Rotter & Associates and William McClain of Windsor Advantage to discuss SBA alternatives to standard bank loans.
A new or expanding business may want to consider looking to the United States Small Business Administration ("SBA") for help with financing. The SBA participates in a number of loan programs designed for business owners who may have trouble qualifying for a traditional bank loan. Such programs are not direct loans by the government. Rather, they involve a government guaranty, which typically covers between 75 and 90 percent of the loan, thus eliminating much of the risk for the actual lender and enabling the lender to offer more favorable terms o borrowers. The downsides are that additional paperwork needs to be filed, extra fees need to be paid, and it takes longer to get a decision. This webinar focuses on two such programs (504 and 7a), and touches on some other alternatives borrowers have to leverage the government's support of small businesses.
ABOUT FINANCIAL POISE™:
Financial Poise™ provides unbiased news, continuing education, and intelligence to private business owners, executives, investors, and their trusted advisors. For more information contact Emily Goldin at egoldin(at)financialpoise(dot)com or 312-469-0135.