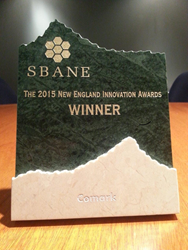 It's wonderful to be the recipient of this prestigious award
Milford, MA (PRWEB) May 11, 2015
Comark Interactive Solutions is pleased to announce the winning of the prestigious SBANE, 2015 New England Innovation Award. "It's wonderful to be the recipient of this prestigious award," said Steve Schott, President and CEO of Comark Interactive Solutions. The winners, narrowed from a list of 20 finalists, were announced at the May 6th Evening of Innovation program held at the Westin Hotel, Waltham, MA.
"The New England Innovation Awards showcases the best innovative companies in our region who possess the most explosive growth potential to expand our economic base. The health of the New England Economy depends upon the creative forces of innovation to drive capital formation and job creation," said SBANE President, Robert Baker.
The 175 nominees competed in two rounds of judging. The initial round was held on March 19th at the Conference Center at Bentley University in Waltham, where the nominees were narrowed to a list of 50 semi-finalists. In a second judging session, that list was then narrowed to 20 finalists.
The 20 Finalists presented to a panel of 68 judges on April 9th at the MIT Endicott House in Dedham, MA. After the presentations, the judges chose four winners in the "Profit" category and two in the "Non-Profit" category. Two companies were honored as "Rising Stars", who are in the early stage of development and have clearly demonstrated the validity of their business.
"All of our winners have exemplified what SBANE considers true industry agnostic innovation and we are delighted that they have joined an exclusive group of tremendous companies and organizations from throughout New England in SBANE's 'Circle of Excellence'" said Faber, after the winners had been announced.
About SBANE
The Smaller Business Association of New England, Inc. (SBANE), founded in 1938, is a private not-for-profit association of approximately 600 member companies located throughout the six-state region. SBANE was established to provide a legislative voice for small business at the state and federal levels and to make practical information available to help business owners grow their companies. SBANE runs diverse, educational and networking programs each year and has active chapters in Massachusetts and Rhode Island. The membership is characterized by a high degree of participation, reflected in a large and dynamic committee structure, addressing a range of topics from international trade to human resources.
About Comark Interactive Solutions
Comark Interactive Solutions designs and builds interactive computer and display solutions for industrial, transit and public infrastructure. Comark was recently selected to provide public communications structures to replace over 6000 phone booths with free Wi-Fi hotspots in New York City. (http://www.link.nyc/)