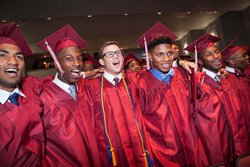 "We are pioneers!" says Edwin D. Leahy, O.S.B., headmaster at St. Benedict's Prep. "It's a big win for the kids."
Newark, NJ (PRWEB) March 14, 2017
St. Benedict's Preparatory School, one of the nation's most successful all-male urban schools, today announced a new academic program to provide a comprehensive K-12 curriculum. The move comes two years after taking responsibility for St. Mary School, the oldest existing Catholic elementary school in New Jersey.
After careful planning, and in response to calls to further serve the residents of New Jersey's largest city, St. Benedict's Prep will now operate a co-educational Lower Division (Grades K-6), a Middle Division comprising separate single-sex programs for boys and girls (Grades 7-8) and an all-boys Upper Division (Grades 9 through post-grad). The new model, which also provides opportunities for post-graduate studies for young men, takes effect July 1.
St. Mary, a co-educational school for children in kindergarten through eighth grade founded in 1842, is located on the grounds of the Benedictine Abbey of Newark, the same monastic home of St. Benedict's Prep. St. Mary had long been the responsibility of the Archdiocese of Newark before the Abbey was asked by the Archbishop of Newark to assume responsibility for its operations in 2015. Since 1968, St. Mary has been a mission of the Sisters of St. Joseph of Chestnut Hill, Pa., who will remain an integral part of St. Benedict's Prep.
"This is an exciting time for St. Benedict's," said the school's Headmaster, Rev. Edwin Leahy, O.S.B., a member of the school's Class of 1963. "We were pioneers in 1973 when St. Benedict's was re-opened to serve the needs of Newark and its surrounding community. Today, we are pioneers again. To bring two sets of dedicated and caring teachers and administrators, including laypersons, Sisters of St. Joseph, and the Benedictine Monks of Newark Abbey, under one St. Benedict's umbrella is a real plus for Newark. Most importantly, it is a big win for the kids."
With this new model, St. Benedict's Preparatory School now boasts an enrollment of nearly 800 students.
About St. Benedict's Prep
St. Benedict's Preparatory School was founded by the Benedictine Monks in 1868 and is one of the oldest and most successful urban schools in the country. Over its history, the Catholic school has educated a rich variety of successive immigrant groups and the local community in and around Greater Newark. It now serves students primarily of African-American and Latino heritage, in grades K through post-graduate. Ninety-eight percent of its graduates go on to college with 87 percent obtaining a degree or on track to graduate. "The Resurrection of St. Benedict's," a segment on CBS's 60 Minutes was aired in 2016 (http://www.sbp.org/60Minutes).
For more information, contact:
Michael Fazio
Chief Advancement Officer
973-792-5777
mfazio(at)sbp(dot)org
http://www.sbp.org