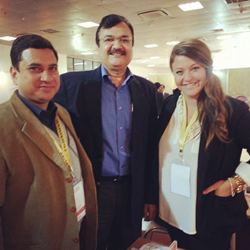 Between India and China, we have added another potential 2+ billion potential readers and buyers for our authors. - Kait Neese, Managing Director, PODG
(PRWEB) March 17, 2014
The 2014 New Delhi World Book Fair was held at Pragati Maidan, New Delhi. This annual event is organized by National Book Trust, a government apex body formed to enhance and popularize the publication and reading literature throughout India. The fair brought together all walks of the South-East Asian publishing industry including book buyers, licensing agents and publishers from India, Bangladesh, Sri Lanka, Maldives, Myanmar, Bhutan, Indonesia, Malaysia, Thailand, Japan and China.
India is ranked amongst the top 7 publishing nations on the planet, coming in 3rd after USA and the United Kingdom in English Language publishing. Eleven-hundred exhibitors displayed their published works at the New Delhi World Book Fair, where over 1.5 million people attended. There are 12,000 publishers in India and only less than 2% will travel to international book fairs. The fair was the perfect chance for authors to get in front of local Indian publishers who choose to stay local.
"Between India and China, we have added another potential 2+ billion potential readers and buyers for our authors", said Kait Neese, Managing Director of PODG.
After the announcement of PODG's partnership with ISO Certified-Publish-On-Demand Facility, SBPRA and PODG attended the fair and launched their many services, such as international book distribution and their newly expanded platforms and channels to sell Ebooks in the emerging markets of India.
"I am thrilled at the international distribution that we have achieved for SBPRA authors", said Robert Fletcher, CEO of SBPRA. "India is an incredible market for English language books."
ABOUT: Publish On Demand Global, through its partners and affiliates, currently provides services to approximately 10,000 authors and publishers around the world. We help authors and publishers penetrate other markets globally in print books, ebooks, mobile books and tablet books. We reach into 50 sales channels that are NOT covered by In-gram and Amazon (and any other Western company to the best of our knowledge).
SBPRA is growing through acquisition. We are an amalgamation of companies and in-vestors that wish to participate in the dramatic changes that are sweeping through the publishing industry. We are buying publishers from around the world and creating part-nerships with publishing companies in multiple countries.
Our most recent acquisition was of a US company with 2500 published authors. Our dis-tribution is through Ingram in the US/UK and we are setting up distribution now in Australia. We start with print on demand until the market is proved for the book. We use Ingram's printer, Lightning Source, for any print runs less than 500 books. After demand warrants a bigger print run, we get quotes from China and India. We are aggressively expanding beyond the US into the UK, China, and Australia.
Contact: Robert(at)publishondemandglobal(dot)com