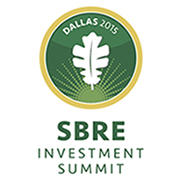 "The quality of the people who put it on (Fairway) and the quality of the content and participants is unrivaled," stated, Paul Worcester, Co-Founder & Principal, Worcester Investors."
Portland, OR (PRWEB) September 17, 2015
The third SBRE Investment Summit beginning on October 15th in Dallas will feature talented Fund Managers from Texas, Oregon, Pennsylvania, Kansas City, California, Ohio, Arizona, Washington and elsewhere who will be presenting their investment opportunities at the Summit—managers of this caliber will be representing a wide variety of strategies and geographic focuses in the SBRE segment. Details can be found at http://www.sbrefunds.com/dallas
"The JOBS Act passing has changed the marketplace. The explosion of the 'hidden asset class' has left it wide open to opportunity," said Fairway America's CEO Matt Burk. "We're excited to have a number of talented fund managers present at the SBRE Investment Summit in Dallas. These presenters are well versed in alternative investments in the real estate sector, and we're delighted to have them provide education on their opportunities to the high net worth accredited investors in attendance," he said. "It'll be one of our best events yet!"
When presenter Greg Hughes was asked about his participation at the Summit, he replied "I don't know of any other place, seminar or event that puts qualified presenters and accredited investors together all in one place better than a Fairway America SBRE Summit. As a presenter in their last two summits, we find it to be without an equal for us to get in front of investors compared to all the others we have participated in. Plus it is a good time for everyone involved, including spouses, who are so often left out."
Fairway America has hosted two events attracting fund managers and high net worth investors, who come to educate themselves, network, and to hear about new alternative investment opportunities. "The quality of the people who put it on (Fairway) and the quality of the content and participants is unrivaled. We believe the Summit provides some of the best value available to anyone regarding the SBRE space," stated Paul Worcester, a veteran Summit presenter.
PRESENTERS AT THE SMALL BALANCE REAL ESTATE SUMMIT, DALLAS 2015:

BLAKE HANSEN, MANAGING PARTNER, Alturas Capital
CHRIS LOEFFLER, CO-FOUNDER & CEO, Caliber
CURT ALTIG, PRINCIPAL, Builders Capital
DARRIS CASSIDY, MANAGING DIRECTOR, Fairway America
DAVID SCOTT, PRESIDENT, Silverado Management Group
DEAN LONTOS, MANAGING PARTNER, Bay Mountain Capital
GREG HUGHES, FOUNDER & CEO, Hughes Private Capital
MITCH SIEGLER, SENIOR MANAGING DIRECTOR, Pathfinder Partners
PAUL WORCESTER, CO-FOUNDER & PRINCIPAL, Worcester Investments
RALPH ABBOTT, MANAGER, Prospera Advisory Group
RYAN PARSON, DIRECTOR-INVESTOR RELATIONS, Colonial Capital Management
STEPHEN SEAL, CEO, Voyager Pacific Capital
AND MORE TBA…
SPONSORS OF THE SMALL BALANCE REAL ESTATE SUMMIT, DALLAS 2015:

ATER WYNEE LLP
JJA SEARCH
KEIRETSU FORUM
MICK & ASSOCIATES, P.C., LLO
SPIEGEL ACCOUNTANCY
Styled by BTACK
AND MORE TBA…
GREAT OPPORTUNITY:

WHO ATTENDS OUR EVENTS: This event is by invitation only and is specifically designed to cater to family offices and high net worth accredited investors interested in learning more about this "hidden asset class" that is now exploding out in the open with the recent passage of the JOBS Act and alternative investments in the real estate sector.
EVENT INFO:
WHEN & WHERE: The third SBRE Investment Summit will begin on October 15, 2015, and continue through Saturday, October 17, 2015, at the Hilton Anatole Dallas Texas.
TO LEARN MORE OR TO REQUEST AN INVITATION: http://www.sbrefunds.com/dallas
SPONSORSHIP INQUIRIES: marketing(at)fairwayameri(dot)com
About Fairway America
Fairway America, LLC is a longtime real estate lender, fund manager and real estate finance advisory firm providing strategic business planning services nationwide to SBRE entrepreneurs and independent registered investment advisors around the structure, architecture, and administration of proprietary 506 Regulation D pooled investment funds. Fairway's related entities manage two proprietary funds, Fairway America Fund VI, LLC, and Fairway America Fund VII LP, each focused on the SBRE space with different asset allocations and investment features. Both funds consider investments nationwide.
About SBREfunds.com
SBREfunds.com is an online portal that exclusively lists small balance real estate pooled investment fund opportunities. Created by Fairway America, SBREfunds.com provides entrepreneurs and investors with education and connectivity to better capitalize and grow an SBRE enterprise. From connection to investors to strategic capital raising plans to live events, SBREfunds.com is the definitive resource for SBRE entrepreneurs and accredited investors to understand how to successfully work with one another for mutual benefit and growth.
Follow us on Twitter at @sbrefunds , @fairwayamerica, and @sbreguru, and on Facebook: https://www.facebook.com/SBREfunds/
Neither Fairway America nor SBREfunds.com is a registered broker-dealer or investment advisor. None of the Fairway companies perform any activities of a broker or investment adviser, including but not limited to, soliciting investors, providing investment advice, negotiating securities transactions or the terms, conditions or provisions of any offering, or recommending the purchase of securities. This press release does not constitute an offer or solicitation to sell securities in any of the companies mentioned, any funds presenting at SBRE Summit events, or any related or associated companies. Investors must not rely on information provided in this press release for investment decisions.