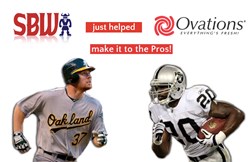 To be the food service company for the Raiders and A's is a huge once-in-a-lifetime opportunity, and you really have one shot to make an impression.
Somers, NY (PRWEB) February 13, 2014
Ovations Food Services, a nationally renowned food and beverage catering and concessions provider, was bidding for the contract of the O.co Coliseum, home of the NFL's Oakland Raiders and Major League Baseball's Oakland A's, when they tapped into the resources of Swee Brand Works, a brand building marketing communications agency, to contribute some fresh new ideas.
"We knew that winning the O.co Coliseum bid would be a huge win for Ovations, so we wanted some really fresh and creative ideas, and we wanted them fast," said Kristen Thompson, Director of Marketing for Ovations. Chris Swee, Chief Brand Builder at SBW, had already been working with Ovations on recrafting the company's proposal process when he got the call to the bullpen. "To be the food service company for the Raiders and A's is a huge once-in-a-lifetime opportunity, and you really have one shot to make an impression," said Swee. "Ovations' brand positioning and mantra is Everything's Fresh™, so it made complete sense to be bold in our proposal and presentation."
In addition to helping Ovations' team recraft the written proposal, SBW developed a one-page internal ad to accompany the submission. Titled "Plan C," the ad illustrated three key selling points that only Ovations could offer the Raiders and A's. Swee added, "These types of proposals are extremely lengthy and somewhat boilerplate, as required by the industry. By creating an ad, we not only cut through the clutter to position Ovations as the clear choice, but also set the tone for the in-person presentation." Additionally, SBW created a 45-second video in the format of a movie preview trailer called "Something Fresh Is Coming," which was shown during the presentation and gave Raiders and A's executives a glimpse of what it would be like to work with Ovations.
In January, Ovations became the official food service company of the Oakland Raiders and Oakland A's. "Needless to say, we hit a home run and scored the winning touchdown with our proposal and presentation," said Thompson. "We're glad to have SBW on our team."
About Swee Brand Works: SBW (http://www.sweebrandworks.com) is a marketing communications agency that helps build brands with great ideas, breakthrough creative and a hands-on approach… one client at a time. With over 25 years of experience building brands, SBW's capabilities include branding, strategic planning, advertising, digital marketing, website development, graphic design, corporate communications, direct marketing and sales promotion.
About Ovations Food Services, LP: A nationally ranked food service company, Ovations Food Services (http://www.ovationsfoodservices.com) delivers fresh menus, fresh management and fresh ideas to public assembly venues, hotels and casinos throughout the United States and Canada. Ovations specializes in food, beverage, merchandise and hospitality services for stadiums, arenas, convention centers, fairgrounds, expo centers, racetracks, zoos, performing arts centers, amphitheaters, casinos and hotels.