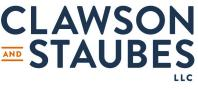 I'm honored to be included among so many talented attorneys
Charleston, SC (PRWEB) August 18, 2014
Lawyers of Color has named Brittany Boykin, an associate in Clawson and Staubes' Charleston office, to its second annual Hot List from the Southern Region. The list recognizes early- to mid-career minority attorneys excelling in the legal profession. Honorees include in-house counsel, government attorneys, and law firm associates and partners chosen by the selection committee.
Boykin is featured in the Lawyers Of Color's Hot List 2014, which recognizes minority lawyers under age 40 in various regions throughout the United States. She is part of the Southern Region—including South Carolina, North Carolina, Georgia, Florida, Alabama, Tennessee and Kentucky—and was feted at a reception hosted by Greenberg Traurig in July.
"I'm honored to be included among so many talented attorneys," said Boykin.
Honorees were chosen through a two-pronged process, during which a selection committee spent months reviewing nominations and researching bar association publications and legal blogs to identify promising candidates. The committee accepted nominations from mentors, peers and colleagues; it also made editorial picks of attorneys who had noteworthy accomplishments or were active in legal pipeline initiatives.
Boykin practices insurance defense litigation with a focus on personal injury claims and was named a Rising Star by Super Lawyers for 2013 and 2014. She is active in both local and national bar associations. She is a member of the DRI Diversity Committee and serves on the South Carolina Bar's CLE Seminars and Practice and Procedure Committees. Boykin also volunteers as a mentor to law students at the Charleston School of Law.
About Lawyers of Color, Inc.
Established in 2008 to report news of import to black legal professionals, Lawyers of Color, Inc. (LOCInc) is now a media and research company focusing on lawyers of color. In addition to its blogs, LOCInc also produces e-newsletters, events and social media platforms to engage legal professionals. The company aims to promote the causes and contributions of minority attorneys.
About Clawson and Staubes
Headquartered on Daniel Island, Clawson and Staubes, has been providing legal services to the Charleston area for 38 years. Clients range from large insurance companies to local banks, small business owners and individuals. The firm currently employs 38 attorneys and 52 support staff and has offices in Charleston, Columbia, Charlotte and Greenville. For more information about Clawson and Staubes, visit clawsonandstaubes.com.