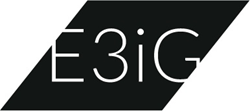 We created E3 Investment Group to bridge the gap between creating profit and pursuing the betterment of our society. Too often those concepts are at odds with one another where social value creation comes at the expense of profit.
New York, NY (PRWEB) February 28, 2014
E3 Investment Group, headquartered in New York, announced today that it has signed an investor with an explicit environmentally conscious mandate to its Scalable-Direct™ EB-5 offering. The keystone of E3 Investment Group's operating philosophy is the harmonious synthesis of social and economic value creation. According to Matt Gordon, E3 Investment Group's Chief Executive Officer and Managing Director, "We want to announce this investor because such news is validating and satisfying on many levels. Most EB-5 investors are focused on participating in the EB-5 program to help attain their immigration goals first and foremost. This investor was a bit different. While she wanted a green card, she would only invest with a sponsor who satisfied her social value needs as well. We were a natural fit. We created E3 Investment Group to bridge the gap between creating profit and pursuing the betterment of our society. Too often those concepts are at odds with one another where social value creation comes at the expense of profit. With E3, we found a path where the very acts we undertake to create social value are the drivers of profit."
The 3Es in E3 Investment Group's name are: Employment, Environment and Earnings. E3 Investment Group is the sponsor of operating companies that allow the investors to qualify under the US Government's EB-5 program, enabling them to attain US permanent residency ("green cards"). The EB-5 program is a job creation program, whereby the investor qualifies for permanent residency if his or her investment capital produces at least 10 full time jobs.
E3 Investment Group's first E is Employment. E3 Investment group focuses in high unemployment areas, creating jobs where they are needed the most. This type of direct job creation in truly economically distressed areas, like Indianapolis, which is the location of E3 Investment Group's first operating venture, is vital for cities that have not succeeded in reversing economic decline. Mr. Gordon noted, "No one firm can solve all the legacy problems faced by inner cities in America. We can, however, begin the process to reverse the decline. Our goal is to create several hundred jobs in Indianapolis, Indiana with a targeted wage of nearly $40,000 per employee. These jobs pay more than twice the minimum wage and have full benefits. At full operational scale, our employees will be earning over $24 million annually, and we will be paying over $3.8 million in payroll and state corporate income taxes. All those workers need housing, cars, food and entertainment. That $24 million in turn helps grow and support dozens of other local businesses and the $3.8 million provides the state, local and federal government fresh capital to invest in infrastructure, helping to attract even more businesses. Our goal is help establish the beachhead in reversing the vicious cycle and to replace it with a virtuous circle of economic growth and community development."
The second E is for "Environment." E3 Investment Group's mandate in this area is to minimize the environmental impact in every way that it operates. According to Mr. Gordon, "In our trucking operations, we have no choice at the present time but to burn diesel fuel. When the use of better fuels like natural gas is economically viable by virtue of a distribution network, we will use it. For now, however, every gallon of fuel we can figure out how to not burn, saves our environment from over 22 pounds of carbon dioxide and adds nearly $4 to our bottom line. Our goal is to focus on what we call '0.1'. Every 0.1 mile per gallon (MPG) improvement in our fuel efficiency will avert over 1,200 tons of carbon dioxide annually and generate several hundred thousand dollars in additional profits. With this mindset, we do not need government subsidies, we just need to work hard and look for every opportunity to reduce our fuel consumption. We have several strategies to help achieve and exceed this goal."
Mr. Gordon continued, "We hope to be a leader in this area. Across the national class-8 trucking fleet, our goal of 0.1 MPG, or just a typical 1.5% fuel efficiency improvement, can avert 5.5 million tons of carbon dioxide annually. This has the same impact as converting 640,000 homes to solar power."
"The final E," Mr. Gordon explained, "is Earnings. Without earnings we cannot sustain our endeavors or attract the capital needed to develop critically needed businesses. We do not apologize for our profit motivation; we celebrate it, as it will allow us to accomplish so many wonderful things. In the end, our ultimate goal is to build an enduring American legacy in which we improve the communities where we live and work and better the lives of all those who chose to associate with us."
About E3 Investment Group
E3 Investment Group is a 21st century private equity firm that works within the US Government EB-5 program to satisfy its three mandates - "The three E's": Employment – to create well paying, long term jobs. The Environment – to conduct our operations in a manner that minimizes our impact on the industries in which we focus. Earnings – so we can ultimately repay our investors, do well for ourselves and do good for the communities in which we operate.
For a short video on how Scalable-Direct™ works, see http://www.e3ig.com/scalable-direct
To view our recent interview on EB-5 Investment Report interview, see http://eb5investmentreport.com/investment-group-new-direct-eb-5-model/
See the following link for a comparison between Scalable-Direct™ and the typical EB-5 Investment structures: http://e3ig.com/direct-vs-regional-center-based-investments
E3 Investment Group is a subsidiary of Hussar & Co, LLC.