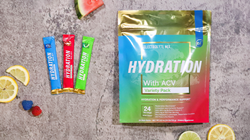 "Empowerment is one of our core values, and we created this campaign to empower consumers to help others. We wanted them to feel even more connected to our mission by hydrating those in need and bettering the planet, said Ziv Haklili, CoFounder of Scale Media
SHERMAN OAKS, Calif. (PRWEB) June 24, 2021
Essential Elements®, a modern sports nutrition brand powered by Scale Media, announces its charity partnership with Water.org to support Water.org in providing clean and safe water worldwide. Committed to advancing social causes, Essential Elements has launched its 'Essential World Hydration' campaign to address the lack of access to clean water in developing countries. Each purchase on ee.fit will supply one individual with safe water for an entire year through a donation to Water.org.
Scale launched the fast-growing Essential Elements brand in 2018 with a new approach to formulating sports nutrition and hydration products. Science-based and clinically studied, Essential Elements formulated 12 products made with premium and natural ingredients, at the highest potency.
"Our Essential Elements brand was created around our belief that all people have the right to the essential nutrients that will help them thrive in life. The single, most essential natural element is water—and yet, millions of people today are unable to access safe water," said Ziv Haklili, CoFounder of Scale Media. "Empowerment is one of our core values, and we created this campaign to empower consumers to help others. We wanted them to feel even more connected to our mission by hydrating those in need and bettering the planet."
As part of its global strategy to expand its mission, Essentials Elements chose Water.org, a global nonprofit organization working to bring water and sanitation to the world for more than 30 years. The Essential World Hydration campaign will support women, children and communities in unlocking countless opportunities, such as education, economic empowerment, and improved health.
"We appreciate the support of Scale and Essential Elements to help change lives around the world. Together we will empower families in need with lasting access to safe water, and the hope, health and opportunity that flow from it," said Melanie Mendrys, Water.org, Director of Brand + Marketing.
To commemorate the campaign launch, Scale will kick things off with an initial donation to support providing 20,000 global citizens with a year of clean water.
To learn more about Scale and its house of brands, including Essential Elements, visit ScaleMedia.com. Join the mission with Essential Elements and Water.org at: https://essentialelementsnutrition.com/lp/Ee-water-org-partnership
About Water.org:
Water.org is an international nonprofit organization that has positively transformed more than 36 million lives around the world with access to safe water and sanitation. Founded by Gary White and Matt Damon, Water.org pioneers market-driven financial solutions to the global water crisis. For 30 years, they've been providing women hope, children health, and families a future. Learn more at https://water.org
About Scale Media:
Headquartered in Los Angeles, California, Scale is a tech-driven direct-to-consumer company that builds and deploys next-generation CPG brands in the beauty, health and wellness industries. Through their proprietary eCommerce and digital marketing engine, Scale transforms consumers' end-to-end online shopping experience while increasing brand loyalty and retention. Founded in 2013 by serial entrepreneurs Ben Flohr and Ziv Haklili, the company has rapidly powered and scaled concepts into multi-million-dollar consumer lifestyle brands, including 1MD, Hair La Vie, Live Conscious, Tru Alchemy and Essential Elements. Today, Scale's growing portfolio of 100+ products helps millions of people live healthier lives. Learn more about Scale and their house of brands at ScaleMedia.com.
Scale Inquiries: Nicole Khandhar, Head of Operations, nicole.k@scale.tech
Essential Elements Inquiries: Al Goldman, Creative Brand Manager, EE, alexandra.g@scale.tech