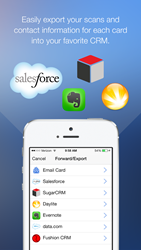 Ease of use is incredible. Those of us that network at conferences and trade-shows need to download this.
Vienna, VA (PRWEB) September 30, 2014
The software company's updated mobile app turns business cards into Salesforce leads or contacts instantly. The FREE 30 day trial of ScanBizCards Enterprise for Salesforce is available on the Salesforce AppExchange.
"We are thrilled with the launch of ScanBizCards Enterprise for Salesforce," said CircleBack Founder and CEO Manoj Ramnani. "Based on the strong demand from our 3 million professionals currently using the ScanBizCards application we enhanced the functionality, user experience and design of the app and introduced the enterprise version to provide businesses with secure, deep and multi-user integration with Salesforce."
The app leverages a best-in-class Optical Character Recognition (OCR) engine to quickly and accurately capture and store business card information. Enterprise users can choose to export a business card directly into Salesforce as a lead or contact. Once the information is stored, the user can choose a variety of actions to ensure that every new contact counts. Users can take the following actions upon scanning a new business card:

Send a new contact an email via a customized template
Invite that person to connect on LinkedIn
Group business card information in SalesForce folders or organize by business accounts
Set a specific reminder to follow-up
Add the person's contact to multiple devices
The app also includes user friendly features such as batch export, custom fields, and support for offline mode. As part of the launch an all new Admin Panel has been introduced that allows Salesforce administrators to remotely control settings for all users. Sales and Tradeshow teams now have the ability to automatically assign campaigns for efficiency. The application has earned 5 star reviews on the Salesforce AppExchange.
About CircleBack
CircleBack, Inc. is a privately held company based in Vienna, Virginia, in the computer software industry specializing in contact intelligence. CircleBack's mobile applications enable users to keep contacts up-to-date across all of their devices. The company is passionate about finding ways to maintain and strengthen professional relationships to ensure every contact counts. Learn more at http://www.circleback.com.