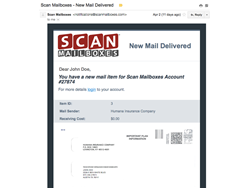 ...snail mail needs to meet those who think time is money.
Austin, TX (PRWEB) May 13, 2014
As comedian Jerry Seinfeld recently said in his stand-up act on "The Tonight Show" starring Jimmy Fallon, "If you [the Post Office] really want to be helpful to us, just open the letters, read'em and email us what it says!" This is exactly what Scan Mailboxes provides along with complete confidentiality and control in mind.
Customers can use Scan Mailboxes' street address in Austin, Texas, with an assigned, unique mailbox number. This makes it easier for customers to be mobile as often as they want to and maintain the same mailing address, saving them the inconvenience of any address changes.
When customers' mail and packages arrive directly at Scan Mailboxes' facility, customers get notified of scanned images of front envelopes/packages on the same day. From that point, customers can have full control via an user-friendly website from a computer or any mobile device to request to: open and scan the contents, forward the physical mail to any designated address, shred and recycle contents, or keep them in storage. Customers, who are in the Austin area, can even stop by to pick up their mail and packages at no additional charge.
Scan Mailboxes is ideal for customers who work from home, but they would like a unique business address for professional profile, expatriates, frequent travelers, renters, owners of multiple addresses, snowbirds, military service personnel, truck drivers, or anyone hoping to replace their costly executive suites service.
In addition to these services, Austin-based commercial businesses can use Scan Mailboxes as their outsource mailroom to gather, sort their mail and/or enable check deposits if desired. Scan Mailboxes is also a Registered Agent Service for Texas companies. To help better understand how Scan Mailboxes operates, anyone can visit http://www.scanmailboxes.com/how-it-works.
There are three subscription plans to choose from starting at just $9.95 monthly. There are no setup fees, and all plans include unlimited shred and recycle for added security. Visit http://www.scanmailboxes.com for more information and sign up to get started! Live chat is also available on the website.