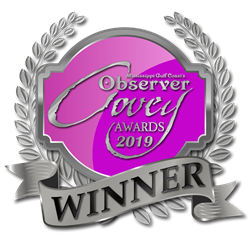 "The Loosest Slots award reflects the commitment we have made to our players and their experience on our casino floor. The Best Casino Hotel award shows our dedication to providing the best amenities for our guests!"
D'IBERVILLE, Miss. (PRWEB) March 27, 2019
The Scarlet Pearl Casino Resort family is excited to announce 1st Place wins for in the 2019 Covey Awards for Loosest Slots and Best Casino Hotel! The Best Casino Hotel award was the third straight for Scarlet Pearl, while the Loosest Slots was the second win in-a-row.
The Covey Awards began in 2004 as a way to recognize the hard work in the Mississippi Gulf Coast's gaming, service, and music scene industries. Candidates are nominated and voted on by readers of Mississippi Gulf Coast's Observer Magazine. Scarlet Pearl was also a finalist for Best Players Club, and Scarlet's Steaks and Seafood was a finalist for Best Sunday Brunch and Best Steaks on the Coast.
"We are so honored to have been chosen as 'the best' by our players and guests," said Scarlet Pearl CEO LuAnn Pappas. "The Loosest Slots award reflects the commitment we have made to our players and their experience on our casino floor. The Best Casino Hotel award shows our dedication to providing the best amenities for our guests!"
The Covey Awards Ceremony is a Red-Carpet Event, with Yearly Covey Awards trophies being hand-made by local potters to give them a unique and special look. Covey Award balloting for next year's event is open currently through September 30, 2019.
About Scarlet Pearl Casino Resort: Scarlet Pearl Casino Resort (scarletpearlcasino.com) is a privately held company based in D'Iberville, MS. The casino resort features 300 hotel rooms, a miniature golf course, an event center, a luxurious pool and multiple restaurants. In addition to the non-gaming amenities, the casino is home to over 1,170 slots, including 80 live video poker machines, and 37 table games, including Blackjack, Craps and Roulette. The casino opened in D'Iberville, MS December 9, 2015.