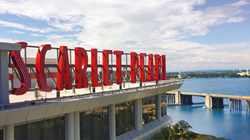 "Scarlet Pearl is the nation's new home for the biggest bets," said CEO LuAnn Pappas. "We'll speak with any guest who wants to place a large bet, whether it's in our sportsbook, on our tables, or at our slot machines. We don't sweat the money."
D'IBERVILLE, Miss. (PRWEB) October 22, 2019
On October 1, Scarlet Pearl Casino Resort CEO LuAnn Pappas accepted Jim "Mattress Mack" McIngvale's $3.5 million bet on the Houston Astros to win the 2019 World Series. If Houston wins the World Series, McIngvale will collect a payout of $11.2 million. Eight days later, Scarlet Pearl accepted a second wager for $1 million on the American League winning the World Series.
"Scarlet Pearl is the nation's new home for the biggest bets," said CEO LuAnn Pappas. "We'll speak with any guest who wants to place a large bet, whether it's in our sportsbook, on our tables, or at our slot machines. We don't sweat the money."
Upon placing the bet, McIngvale stated Scarlet Pearl is the "greatest casino and sportsbook in the country." McIngvale is originally from Starkville, MS and currently owns Houston-based Gallery Furniture.
These national headline-making bets are the largest single bets in Mississippi sportsbook history, with the $3.5-million wager being one of the nation's largest bets ever.
For interviews, Scarlet Pearl CEO LuAnn Pappas can discuss:

How these history-making wagers came to be.
Who she's rooting for and her feelings about the Astros or Nationals winning.
Why Scarlet Pearl, and independent casino on the Mississippi Gulf Coast, took wagers that no one else would.
What will happen at Scarlet Pearl if the Astros win the World Series.
Why she believes larger casino conglomerates didn't take the action.
If Scarlet Pearl will be taking any other 6-figure or 7-figure single wagers in the near future.
Visuals Available:
To Schedule an interview:
Andy Hurt at 228-388-9830, andy@theadgroup.net
Laura Hasty at 228-388-9830, laura@theadgroup.net
About Scarlet Pearl Casino Resort:
Scarlet Pearl Casino Resort (scarletpearlcasino.com) is a privately held company based in D'Iberville, MS. The casino resort offers over 950 slots, 33 table games, 300 hotel rooms, multiple restaurants, an event center, a luxurious pool, and a miniature golf course. In 2018, the property opened DraftKings at Scarlet Pearl Sportsbook, where in 2019 two of the biggest sportsbook wagers in Mississippi history were made.
For more information on Scarlet Pearl Casino Resort: http://www.scarletpearlcasino.com
For more information on DraftKings: http://www.draftkings.com
About LuAnn Pappas
With over 35 years of experience in the gaming industry, LuAnn Pappas is one of only two female casino Chief Executive Officers on the thriving Mississippi Gulf Coast. Pappas attributes much of her success as a leader to the influence and advice of her father, who emphasized fairness, firmness, discipline, and a never-quit attitude.
Pappas has been distinguished with awards and designations from the Mississippi Business Journal, Global Gaming Women, New Orleans Magazine, the American Red Cross, Gulf Coast Woman and Global Gaming Business.
Under Pappas' leadership, Scarlet Pearl Casino Resort has received many awards to include: Casino Player Awards, Mississippi Gulf Coast's Observer's Covey Awards, Southern Gaming Magazine Awards, American Advertising Federation Awards, Open Table Awards, and numerous associates have received awards for their individual expertise and community involvement.