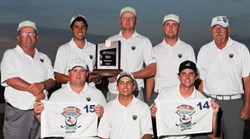 This accomplishment reflects their character - they work hard at both school and golf. --SCC Golf Coach Dan Dersam
Scottsdale, AZ (PRWEB) August 17, 2013
The men's golf team at Scottsdale Community College has been named Academic National Champions for NJCAA Division I by the Golf Coaches Association of America (GCAA).
The championship is based on the team's cumulative grade point average during the 2012-2013 academic year. Fighting Artichoke team members finished with a 3.41 grade point average on a 4.0 scale.
"I'm truly a firm believer that education is the number one reason these kids are here," said SCC Golf Coach Dan Dersam. "This accomplishment reflects their character - they work hard at both school and golf."
Last May, the Fighting Artichokes finished third in the national tournament in Lubbock, Texas. SCC men's golf teams have won the national tournament 10 times, with the last coming in 2007.
Two SCC players were named Academic All Americans. Zac Sardina will attend Chico State University in California on a full-ride scholarship this year. Sardina finished with a 4.0 gpa and was also named second-team All American. Dustin Dalzell will attend the University of Colorado at Colorado Springs, also on a full-ride scholarship.
Two other Arizona golf teams earned academic national championships. South Mountain Community College won its fourth straight academic title for NJCAA Division II and, at the NAIA level, Embry Riddle University in Prescott captured its first such academic title.
More than 140 teams received All-Academic team honors by posting a team gpa of 3.0 or higher. Brown University earned the highest team grade point average among all the All-Academic teams with a 3.74.
It was the first time SCC has earned the Academic national championship but individual team members have become Academic All Americans in the past.
"There's no such thing as a good athlete who is not intelligent," said Dersam. "People who don't have the ability to educate themselves won't be able to work hard and improve their game. Golf is not an easy sport."
SCC men's golf team members were:
Steven Cook
Dustin Dalzell
Chris Gill
Jordon Hoodikoff
Bobby Reuter
Matt Salmon
Zac Sardina
Ben Welle
Scottsdale Community College is one of the 10 regionally accredited Maricopa Community Colleges and a premier two-year educational institution and cultural center that serves the needs of its diverse communities by providing innovative and creative opportunities to learn, grow and achieve. We offer affordable, high-quality instruction to traditional and non-traditional students, career-minded professionals and life-long learners.