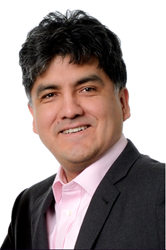 I've gotten a lot of feedback from students that he is someone they admire so we wanted to bring him for a visit. --AIP director Ana Cuddington
(PRWEB) September 12, 2014
Nationally and internationally renowned author, poet and screenwriter Sherman Alexie will speak at Scottsdale Community College Thursday, Sept. 18 as part of the school's American Indian Program (AIP) speaker series.
Alexie will present at 6 p.m. in the school's North Gym, followed by a question-and-answer session and book signing. The event is free and open to the public.
Prior to his public presentation, he will spend time with SCC students.
"Many of our students read his books," said AIP director Ana Cuddington. "I've gotten a lot of feedback from students that he is someone they admire so we wanted to bring him for a visit."
Alexie, who grew up on the Spokane Indian Reservation in Washington state, is a gifted orator who tells tales of contemporary American Indian life laced with razor-sharp humor, unsettling candor and biting wit.
His first novel, "Reservation Blues," won Booklist's Editors Choice Award for Fiction. His second, "Indian Killer," was a New York Times Notable Book. "The Toughest Indian in the World" won the 2001 PEN/Malamud Award, honoring excellence in the art of storytelling. "Ten Little Indians" was a national bestseller and Publishers Weekly Book of the Year.
His 24th book, "What I've Stolen, What I've Earned," a collection of poems, was released in November 2013.
Other books he's written include: "The Absolutely True Diary of a Part-Time Indian" - a 2007 National Book Award winner in Young People's Literature; the novel "Flight"; and "Face," a collection of poems. His 2009 book of short stories, "War Dances," won the PEN Faulkner Award.
Alexie wrote and produced the film, "Smoke Signals," based on his book, "The Lone Ranger and Tonto Fistfight in Heaven," which won the Audience Award and Filmmakers Trophy at the 1998 Sundance Film festival. In 2002 he made his directorial debut with The Business of Fancydancing. He is currently working on a sequel to "The Lone Ranger and Tonto Fistfight in Heaven" titled "Fire with Fire" and a sequel to "True Diary" called "The Magic and Tragic Year of My Broken Thumb."
Alexie received Washington State University's highest alumni award, recognizing the importance of his Native American voice to a broad audience, the Katherine Anne Porter Award in Literature, and Pushcart Prize. He released "Blasphemy," an anthology of new stories and beloved classics, in October 2012. He recently received the 2014 Literature Award from The American Academy of Arts and Letters.
# # #
Scottsdale Community College is one of the 10 regionally accredited Maricopa Community Colleges, a premier two-year higher education institution that serves the needs of its diverse communities by providing innovative and creative opportunities to learn, grow and achieve. We offer affordable, high-quality instruction to traditional and non-traditional students, career-minded professionals and life-long learners.