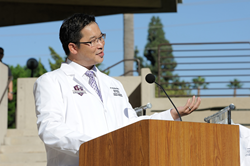 This ceremony marks the formal welcome of our new first- year students into the ranks of optometric eye care professionals. - Dean Woo
FULLERTON, CA (PRWEB) October 05, 2015
One hundred members of the class of 2019 received their white coat before a gathering of family, friends and university administration, faculty and staff, during the afternoon ceremony held on MBKU's Fullerton campus.
Dean of the Southern California College of Optometry, Stanley Woo, O.D., M.S., M.B.A., acknowledged special guests from Alcon, a Novartis company, Mr. Tom Duchardt, Director, Academic Development – U.S. Vision Care, and Ms. Nikki Baron, Academic Account Manager, Department of Professional Affairs.
After thanking SCCO's special guests, Dean Woo acknowledged the significance of the event and welcomed the class of 2019 to MBKU. "This ceremony marks the formal welcome of our new first-year students into the ranks of optometric eye care professionals," said Dr. Woo. "The college is privileged to have diverse, talented and enthusiastic students, waiting to take on the coat that signifies their entry into the profession."
Harue J. Marsden, O.D., M.S., FAAO, Associate Dean for Clinical Education, Julie Schornack, O.D., M.Ed., FAAO, Vice President of Clinical Affairs, and Mark Sawamura, O.D., Chief of the Jarnagin Center for Primary Care, presented the white coats to the students.
Barry A. Weissman, O.D., M.Sc., Ph.D., Diplomate, American Board of Optometry and President of the California Optometric Association, concluded the ceremony by leading the students in the reading of the Optometric Oath for Students.
After the white coat ceremony, students, family, friends and MBKU faculty and staff gathered in the Patricia Hopping Commons to enjoy appetizers and refreshments.
About Marshall B. Ketchum University
Located in Fullerton, CA, Marshall B. Ketchum University is an independent, private, non-profit, accredited educational institution. MBKU is now home to the Southern California College of Optometry, the School of Physician Assistant Studies and planned College of Pharmacy. Named after the founder of the optometric institution in 1904, the change to a university structure addresses the growing demand for highly skilled health care professionals. The university confers a four-year, professional degree, Doctor of Optometry (O.D.) and a Master of Science in Vision Science (M.S.) degree. MBKU's School of Physician Assistant Studies under the College of Health Sciences awards a Master of Medical Sciences (M.M.S.) degree. MBKU has recently announced plans to establish a College of Pharmacy and plans to welcome its first class in the fall of 2016. MBKU owns and operates two premier eye and vision care centers – University Eye Center at Fullerton and University Eye Center at Los Angeles. Marshall B. Ketchum University closed on a deal in January, 2015 to purchase a building in Anaheim, CA. The building will be the new home of Ketchum Health, currently the University Eye Center housed at MBKU's main campus in Fullerton. In addition, the new space will allow for expansion of additional primary health care services, as well as a pharmacy.
###