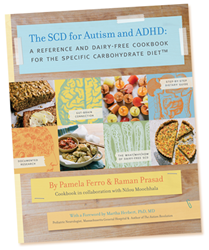 Fairhaven, MA (PRWEB) May 02, 2015
According to the Center for Disease Control, the rate of autism has now increased to a staggering 1 in 68 children in the United States. The groundbreaking book The SCD for Autism and ADHD: A Reference and Dairy-Free Cookbook for the Specific Carbohydrate Diet addresses the debilitating health and digestive issues suffered by most children and adults with autism or ADHD. By implementing the Dairy-Free SCD and completely eliminating dairy, grain, sugar, and soy, this innovative diet can play a pivotal role by improving behavior, mood, cognition, and language.
This comprehensive guide is broken into two segments. The first portion explains the scientific research that supports the SCD Dairy-Free dietary intervention. It describes how conditions from anxiety and eczema to reflux and motor coordination are also tied to autism and ADHD. Families are expertly guided on how to begin and maintain the SCD Dairy-Free regime; including instruction on building a support network and setting up the kitchen to shopping lists, meal plans, and what to expect on the first days of the diet.
The second part of the book contains over 150 appetizing SCD Dairy-Free recipes organized into categories such as Bakery, Breakfast, Snacks, Meats, Drinks, and Desserts; with child-friendly recipes ranging from Grandma's Basic Pancakes and SCD Dairy-Free Chicken Nuggets to Tater Tots and Lemon Vanilla Cake. A sample transitional menu, weekly meal plans, and themed menu ideas are provided as additional resources.
Nancy O'Hara, MD, MPH, FAAP, Founder and Partner, Center for Integrative Health & Former Assistant Medical Director, Defeat Autism Now! Physician Training states, "Someone once told me that a good book becomes like a friend. A friend you can go to over and over - a friend you can trust, consult, and upon whom you can rely. This book will be your friend. With research-proven evidence, Pam and Raman show you why so many of our children are getting sick, how our children's digestive systems are an integral part of all diseases, and how a dairy-free version of the Specific Carbohydrate Diet (SCD) can help them heal. Most importantly, this book helps us to figure out how to help these kids."
About the Authors
Pamela Ferro is a co-founder of Hopewell Associates, a nurse-run practice in southern Massachusetts. Over the past decade, Pam has treated children and adults with autism and ADHD implementing the SCD-DF.
Raman Prasad is the founder of scdrecipe.com, a well-established online SCD resource. He is the author of SCD cookbooks Recipes for the Specific Carbohydrate Diet (Fair Winds Press, 2008) and Adventures in the Family Kitchen, as well as the non-fiction memoir Colitis & Me.
Nilou Moochhala is co-author of Recipes for the Specific Carbohydrate Diet, and assisted in the creation of recipes for Prasad's Adventures in the Family Kitchen. She has designed and tested the SCD-DF recipes for the Cookbook section.