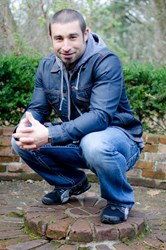 Results don't happen on their own, they are achieved by discipline, self-control and consistency!
Spokane, WA (PRWEB) February 01, 2014
There are few things less fulfilling in life then a peak fitness level with ultimate endurance. Six years ago, personal trainer K.Jay Davis, found his passion for personal total body fitness. He is now the owner/trainer of SCE Fitness located at Specialty Training Inc gym in downtown Spokane.
Being NESTA certified, he specializes in power, agility, strength, weight-loss, plyometrics, relative strength, core strength, group and 1x1 training, and nutrition. SCE Fitness is introducing their top fitness class PAS60 for those out there ready to conquer it all.
The maximum class size for PAS60 is 10 athletes. This is to ensure flawless technique and performance for each exercise.
Not only does PAS60 get your body physically fit, but it releases endorphins in the brain creating feelings of well being. Through K.Jay's unique philosophy and objective insight on past experiences, school and past failures, it has allowed him to create the PAS60 class.
The body looks for instant energy once the heart gets pumping and muscles start working for longer periods of time (generally 2-3 minutes). When the body is unable to make more adenosine triphosphate (ATP), energy for the muscles, energy is created from our muscles and lowers the body's lean body tissue.
This program delivers a body type much like a sprinter who has developed muscle endurance, power and agility and has a body well rounded for all and any event. Muscles in the brain are active just like the rest of the body. The key is to work smarter, not harder, and breath correctly under serious duress to expand lung capacity.
There is only one way to complete success in total body fitness, and that is consistency. Results don't happen on their own, they are achieved by discipline, self-control....and consistency.
The shared passion of PAS60 athletes creates a synergistic atmosphere which allows each participant to strengthen themselves and achieve ultimate fitness. Training efficiency, safety, and mentality is taught throughout our class. SCE Fitness also provides individualized nutritional meal plans with certain packages.
It is awesome to reach peak performance and stretch the body to a place it has never been before. Whatever the story may be, if ultimate fitness with extreme endurance is in view, PAS60 is the answer.