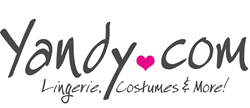 PHOENIX, Ariz. (PRWEB) June 03, 2014
As the premier online retailer of lingerie, sexy Halloween costumes, raveware, sexy dresses and other women's fashion, Yandy.com is proud to announce the addition of sexy scented panties featuring distinctive fragrances that are sure to be the next big thing in lingerie. From offering an exclusive line of neon lingerie to glow in the dark bedroom and rave sets, Yandy.com has always been on the cutting edge of the lingerie industry and the addition of the scented panty line is no exception.
With more than 50 fashionable styles, including boyshorts, thongs and bikini panties, and several unique fragrances to choose from, the new line of scented panties is sure to offer something for every type of shopper. In addition to fruity, mouthwatering flavors like cherry, grape and strawberry, the new scented panties also come in unique aromas like floral, love and even patchouli oil. At $8.95, the new panties are affordably priced and, with proper care, the scent will last for five to seven washes.
When the Yandy.com merchandising director, Pilar Quintana, first heard of the scented panties, she was skeptical. Quintana's skepticism quickly turned to excitement after she saw the dozens of unique and eye catching patterns available. With patterns ranging from gumballs, to cherries, to chocolates paired with corresponding scents, Quintana knew she had to bring in these one of a kind items. "I am very excited to add these panties to our inventory. I am sure that our customers will find them as cute and unique as I have," said Quintana. "I can't wait for women around the world to experience the wonderful and fragrant scent of these panties," added Quintana.
When a customer purchases a pair of the fragrant panties, they will not only be receiving a fun, colorful and fashionable pair of underwear, but also an experience unlike anywhere else. Upon opening the package, customers will be met with a fragrance unique to each panty. Each scent smells as described, making them universally identifiable and enticing.
With the launch of this new and exciting line, Yandy.com continues to be an innovator in the lingerie space. Scented panties are not only unique, but also a fun and fragrant addition to any lingerie wardrobe. All combinations, styles and fragrances are available now at Yandy.com.
About Yandy.com
E-commerce is on the rise and Yandy.com is one of the largest online retailers of lingerie, sexy Halloween costumes, swimwear and clothing on the web. Founded in 2005, Yandy boasts more than 7,000 products always in stock and at affordable prices. Yandy.com ensures that every customer will receive a safe, secure and private online shopping experience and is listed as a Google Trusted Store. Yandy.com is dedicated to customer service and only sells what is in stock which allows for quick, same day shipping. Offering the highest quality products at the most affordable prices in the market, Yandy.com has become a leader in e-commerce. In addition, the customer service team at Yandy.com is unrivaled. With attentive and helpful operators available seven days a week, should a question or problem arise, the customer service team at Yandy.com is always willing and able to assist. At Yandy.com, every customer can Be Sexy.
###