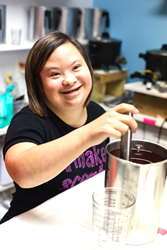 "The labels that Lightning Labels donated have transformed our candles. The material used is durable, bursts with color and does not smudge with handling. "
DENVER (PRWEB) November 06, 2018
As autumn settles in, ScentsAbility Candle Shoppe is addressing fall candle production for everything from "fall flings" and Halloween to Thanksgiving and Christmas. As usual, the Coral Springs, FL-based non-profit is burning candles at both ends, starting with manufacture of soy candles, and continuing on to offer job training and employment to young adults with intellectual and developmental disabilities. Its principals also provide a group living environment to provide after-hours care.
A cadre of young people creates candles and other scented products galore in the 1,200-foot shop under the auspices of Founder Bonnie Schmidt and Development Director Denise Anderson. Their commitment includes teaching and facilitating everything from development of social and fine motor skills to handling everyday tasks such as hand-washing and attending to medical needs.
Notes Schmidt, "At age 22, these young adults with intellectual and developmental disabilities (IDD) age out of federal government and public/private school funding and programs. If they're high enough functioning, there may be opportunity for a job 20 hours a week. However, there's an 85% unemployment rate. Many either end up at home with a caretaker, or in a group home with mixed disabilities where often they receive one-size-fits-all care. For example, a diabetic can wind up with down syndrome and severely autistic patients."
Schmidt notes that at 22, most young people are off to college. That doesn't happen for young adults with IDD. They're in a system that doesn't provide enough resources to become self-sufficient. She notes, "At 22, their entire world changes, including doctors, hospitals, therapists and the like. As parents, we want to provide a meaningful and monetarily rewarding structure and foundation in which to live, work and play—to have real purpose. Our Job 1 is to fill the void at that age or sooner as warranted."
Anderson points out, "Institutional group care can be very traumatic. These homes are not designed for individual care and restrict levels of care. For example, a group home wouldn't take my diabetic daughter, who needs to be reminded about everything. The law states these group homes can't remind someone to take meds. Where are they going to go to get the care they need?"
For now, ScentsAbility helps fill the bill. By day, these young people are candlemakers and by night a number of them stay with Schmidt in her home. It's truly a 24/7 commitment for Anderson and Schmidt.
ScentsAbility was inspired by Schmidt's daughter, Jessica, now 35. Developmental disabilities stemming from medical issues as a baby have mandated substantial supervision and care. Notes Schmidt, "Jessica needs someone by her side almost all of the time. However, she, like other individuals with special needs, has the desire and capability to excel at a job in which she can put her skills and incredible drive to work. The challenge was to find the right fit of people, tasks and environment to allow Jessica to shine."
It came in the form of candles, a present from Jessica one holiday season. "They smelled wonderful and were very pretty. She was very excited. We quickly realized we had found what we had been searching for. Jessica and her friends could make their own beautiful candles, add scents, colors and packaging, and sell them."
ScentsAbility started out of Schmidt's home a decade ago. They sold at craft fairs, and engaged the support of individuals and business owners who showcased the products. Over time, more young adults with IDD started participating. In 2012, they opened a retail shop and became a 501 (c) 3 non-profit.
"Unknowingly, Jessica's present turned out to be a real gift for her and others with IDD– it gave life to ScentsAbility. From the beginning, Jessica took her commitment very seriously. She worked with her mom testing different pourers, wicks, scents, labels and other materials to determine the most effective process for her to be able to work independently, efficiently and safely. Jessica quickly mastered the techniques of pouring, and each day became more comfortable and skilled in color matching and applying proper amounts and types of scents," Schmidt says.
In addition to the craft-making side of the business, adds Anderson, "We teach them how to punch in/out for their shift, how to use a cash register, stock shelves, alphabetize, count money, and how to use a computer to ring up a sale. All of this helps build a better future for individuals with intellectual and developmental disabilities!"
To continue growing the brand and employment opportunities, ScentsAbility is now focused on building partnerships and relationships with companies. One of those partners, Denver-based Lightning Labels, recently provided 50,000 labels gratis to the company to use with their candles.
"The labels that Lightning Labels donated have transformed our candles. The material used is durable, bursts with color and does not smudge with handling. In addition, they print on rolls, allowing us to apply the labels with an automated applicator; which opens up more jobs for our young adults. The quality of our product is now on the same level as the largest candle companies. The labels are the first impression our customers see, and Lightning Labels has given our products an incredible professionalism that we could never have afforded to do on our own," Schmidt emphasizes.
She adds, "Our scent designs pop now and give customers a wonderful visual experience. The process has been so easy and stress free. We were instructed how to send the files and received proofs quickly. We received our first shipment and were so pleased. They are easier to work with and apply, and look incredible. Lightning Labels' generous support has given ScentsAbility the 'ability' to compete in any market. We cannot thank Lightning Labels, Gary Paulin and the entire staff enough."
Schmidt notes, "We hope that someday ScentsAbility will permit hundreds, even thousands of individuals with intellectual and developmental disabilities to become more active and independent, to develop discipline, to be productive and proud of what they can achieve. Our mission is to light the path to independence, one candle at a time."
About
ScentsAbility is a 501 (c) 3 non-profit organization that helps individuals with intellectual and developmental disabilities (IDD). Our mission is to provide job training, employment and housing for young adults with intellectual and developmental disabilities. Visit the ScentsAbility store, 11480 W. Sample Road, Coral Springs Fl 33065; or get more information: http://www.scentsability.org, [bonnie@scentsability.org or denise@scentsability.org], 954-234-4405.
Lightning Labels uses state-of-the-art printing technology to provide affordable, full-color custom labels and custom stickers of all shapes and sizes. From small orders for individuals to the bulk needs of big businesses, Lightning Labels is equipped to handle and fulfill custom label and sticker projects of all types. Best of all, like the name implies, Lightning Labels provides a quick turnaround for every customer's labeling needs. Uses for Lightning Labels' custom product labels and custom stickers include food packaging and organic food labels, wine and beverage labels, bath and body labels, and nutraceutical products, such as vitamins, essentials oils, and herbal remedies, as well as event stickers, adhesive window stickers and more. Lightning Labels strongly supports the development of environmentally friendly printing materials and carries EarthFirst PLA, a new kind of green label material made from corn instead of petroleum. While operating as a high-tech printer, Lightning Labels prides itself on its personalized customer service. Lightning Labels provides one stop shopping for all of your custom label needs. For more information and to place orders online, visit LightningLabels.com. For the latest in packaging news and labeling promotional offers, find Lightning Labels on Twitter (@LightningLabels), Facebook, Pinterest, Google+ and LinkedIn.