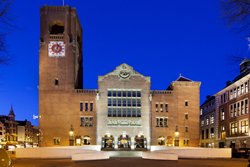 This groundbreaking project allows direct comparison of all the leading SCF vendors for the first time
Amsterdam, Netherlands (PRWEB UK) 5 October 2015
More than 30 providers of supply chain finance (SCF) services, including banks and technology platforms, are participating in a unique experiment to directly compare the services available to corporations who wish to put in place an SCF programme for their smaller suppliers.
SCF solutions, such as reverse factoring, supplier financing and dynamic discounting, allow a supplier to gain faster access to cash due from invoices. However, the cost and complexity of on-boarding smaller suppliers means that many have been unable to take advantage of the SCF programmes offered by their larger customers.
Now, a group of multinational corporations has worked with the Supply Chain Finance Community, a not-for-profit association, to issue an open Request For Information (RFI) to bring supply chain finance solutions to the 'long tail' of their supplier base - those with volumes of €200,000 and below.
Each of the participating SCF vendors will respond to an identical RFI, and the best five solutions will be invited to present to an audience of senior corporate treasury and procurement professionals at the SCF Community Forum in Amsterdam on 18th November 2015. A white paper summarizing the results of the project will be released at the same time, as will an online resource enabling corporations to identify appropriate SCF suppliers for their needs.
"This groundbreaking project allows direct comparison of all the leading SCF vendors for the first time," said Michiel Steeman, executive director of the SCF Community. "It is especially important because the 'long tail' of smaller suppliers has traditionally found it difficult to access the benefits of SCF."
The full list of SCF vendors taking part is: ABN Amro, Anachron, BasWare, BNP Paribas, C2FO, Citi, CRX Markets, Demica, Deutsche Bank, Flinqer, GT Nexus, HSBC, ING, InvaPay, JP Morgan, Kyriba, OpusCapita, Orbian, Oxygen Finance, Premium Technology, Prime Revenue, ProQuidity, Rabobank, Remitia, Riskco, Santander, Side Trade, Social Trade Organization, Taulia, TradeCloud, TradeShift, Trefi Finance, Tungsten and Urica.