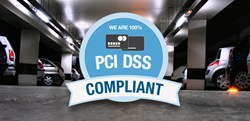 It is critical that the payment application parking operators/owners use for their parking facility is PA-DSS compliant.
Burlington, MA (PRWEB) July 30, 2013
Parking professionals adhere to a variety of compliance and regulation standards in the industry to guarantee secure environments for parking management. One of the vital topics in recent compliance requirements pertains to the Payment Application Data Security Standard (PA-DSS 2.0), which benchmarks for payment data exchange security. Scheidt & Bachmann is proud to announce its parking software solution entervo has received validation for PA-DSS 2.0 compliance in April 2013. Scheidt & Bachmann's entervo parking and revenue control system utilizes a Bankcard Payment Application to securely handle credit card transactions from card presentation to transactions transmission to your clearinghouse.
In order to pass the PA-DSS requirements, Scheidt & Bachmann completed a series of compliance testing with the company's entervo software solution. The solution was audited by a PCI DSS approved assessor who assigned a "pass" or "fail" to the application. Once approved, a merchant or organization is placed on the official list of PA-DSS compliant applications. Merchants and organizations who are not PCI compliant are not only exposed to possible penalties, but also run the risk of having their credit card privileges revoked. A PA-DSS compliant payment solution is a critical piece of overall PCI Compliance.
The Payment Card Industry Security Standards Council (PCI SSC) deployed the PA-DSS guidelines in July 2010 in an effort to serve as the global security standard for merchants and software vendors that implement payment applications. The standard aims to prohibit developed payment applications for third parties from storing prohibited secure data including magnetic stripe, CVV2, or PIN. The PA-DSS certification applies to software vendors and others who develop payment applications that store, process or transmit cardholder data as part of authorization or settlement, where these payment applications are sold, distributed or licensed to third parties.
It is critical that the payment application parking operators/owners use for their parking facility is PA-DSS compliant. For more information about PA-DSS, please visit http://www.PCIsecuritystandards.org. In addition to maintaining high standards of compliance, Scheidt & Bachmann also focuses on offering flexible solutions that allow owners and operators the ability to increase the efficiency of their operations, provide their clients a better parking experience and analyze trends to make informed business decisions. entervo by Scheidt & Bachmann goes beyond barriers.
About Scheidt & Bachmann
Scheidt & Bachmann has been a leading international transportation solutions provider since 1872. The family-owned German company operates two of its largest divisions – Parking Systems and Fare Collections Systems – in the U.S. market from its subsidiary headquarter in Burlington, MA. The Parking Division offers parking access and revenue control systems to various industry clients including airports, hospitals, universities and municipalities. All of the software and hardware equipment are made internally at the S&B factory either in the U.S. or Germany. The company prides itself on maintaining a reputation as the top leader in the industry through its focus on innovation, reliability, flexibility and service.