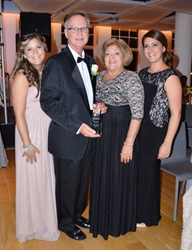 New Jersey City University's commitment to diversity in education, increasing access for Hispanic and other minority students...makes me very proud to accept this prestigious award
Riverdale, NY (PRWEB) October 19, 2014
Bon Secours New York Health System's Schervier Nursing Care Center, specializing in long-term and rehabilitation care in the Riverdale section of The Bronx, is pleased to announce Carlos G. Beato, chief executive officer, was honored by New Jersey City University's Council on Hispanic Affairs (CHA) with the CHA Corporate Alumni award at their 30th Annual Gala last night. Beato received his master of science degree in healthcare administration from New Jersey City University in 1984.
New Jersey City University's Council on Hispanic Affairs is a University-wide organization that strives to engage the University community in the stewardship of education, leadership and culture through Hispanic representation and interest in the University, which is a Hispanic Serving Institution. Other honorees included Goya Foods, CHA Corporate Citizenship Award and The Hon. Jose Linares, United States District Judge, District of New Jersey, CHA Alumni Leadership Award for Public Service.
"I am so thankful for my time at New Jersey City University," said Beato. "New Jersey City University's commitment to diversity in education, increasing access for Hispanic and other minority students, and enhancing lives and futures through education and professional development makes me very proud to accept this prestigious award."
In his acceptance speech, Beato recognized his wife, Maria, "This award is dedicated to my wife Maria for her unselfish love and constant commitment to family…… I could have never been as successful as I have been, if it was not for my wife -- and for that I thank her."
About Bon Secours New York Health System
Bon Secours New York Health System (BSNY) is a not-for-profit, Catholic healthcare system committed to providing a range of compassionate health care services in the New York Metro area. BSNY is comprised of Schervier Nursing Care Center, a 364-bed long-term nursing facility providing skilled nursing care, rehabilitation services, palliative care, and care in a secure environment for those with Alzheimer's and other cognitive impairments. In addition, short-term rehabilitation and cardio-pulmonary rehabilitation programs provide services for those recovering from illness and injury and returning to their home and community. Good Samaritan Homecare provides comprehensive medically case-managed home care to residents of the Bronx, Manhattan, Westchester, Rockland and Orange Counties. The Schervier Apartments offer 154 units of federally-subsidized housing for independent living to seniors and heads of household with disabilities. BSNY Healthy Communities is sponsored by the mission fund of Bon Secours Health System and is committed to creating communities of health, hope and well-being.. For more information, visit scherviercares.org or its Facebook page for frequent updates at facebook.com/SchervierNursingCareCenter.
About Carlos G. Beato, RN, MHA
Since April 2013, Carlos G. Beato has served as chief executive officer for Bon Secours New York Health System (BSNY) in Riverdale, New York. Bon Secours Health System, Inc. based in Marriottsville, Maryland, is a $3.4 billion dollar not-for-profit Catholic health system that owns, manages or joint ventures 19 acute care, 5 long term care, 4 assisted living, 6 retirement communities/senior housing, 14 home care and hospice services, and other facilities, primarily on the East Coast.
Beato has 25 years of senior level clinical, management, and business development experience in both for-profit, not-for-profit, and faith-based organizations including assisted living, skilled nursing, home care and post-acute rehab.
He previously served United Methodist Homes of New Jersey as Corporate Director of Clinical Services. Beato also ran his own consulting firm for 15 years. Clients included hospitals, nursing homes, homecare, hospices, and assisted living, including several Bon Secours ministries.
Beato holds a master of science in healthcare administration from New Jersey City State University in Jersey City, N.J., and a bachelor of science in nursing from Excelsior College, Albany, N.Y. He lives in Clark, New Jersey with his wife of 40 years.
# # #