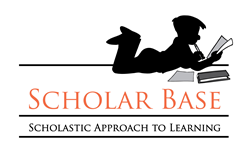 Eyes and ears are overly employed in conventional learning. If hands and legs complement them, then learning would never be boring and mundane.
Kuala Lumpur, Malaysia (PRWEB) March 07, 2014
Malaysia's premier child development centre, Scholar Base, today announces the launch of a new curriculum, which takes a unique approach to teaching children with their faculties to inject fun into learning. Scholar Base's holistic approach lets children experience the joy of learning from a young age, and develops essential skills in seeking knowledge on the children's educational journey – more information is available at http://www.scholar-base.com/.
Children's learning styles have changed in recent years. In fact, in a recent survey conducted by Pew Research Center, 87% of middle and high school teachers reported that new technologies are creating an easily distracted generation. Increased multitasking and decreased attention spans mean that constant stimulation is essential for maintaining children's focus in the classroom.
Scholar Base's new approach to teaching steps away from conventional rote-learning methods and focuses instead on using students' mental and kinesthetic faculties to make learning as engaging and enjoyable as possible from a young age. Poh Lee, the programme director, commented:
"Scholar Base has designed its new curriculum in accordance with the 5 developmental stages of the human faculties." She continued:
"We begin with listening, which is followed by speech and then by reading. Here at Scholar Base we believe that, in order to become real scholars, students must first learn to read with true understanding before they learn to write. They are also encouraged to express themselves in acting."
The development stages of Scholar Base children are Listening, Speaking, Reading, Writing and Stage Acting.
The new curriculum, which launches this month, emphasises using literature to develop imagination, creative thinking, vocabulary, creative writing and cognitive ability. Scholar Base's lessons focus on employment of children's faculties in the following ways:

EYES: Teachers use a variety of colourful visual aids – including computers, alphabet blocks, cards, puzzles and other learning toys – to reinforce learning in a memorable way.
MOUTH: Students are encouraged to interact, share their thoughts and ask questions. Rewards are given constantly for verbal participation, which supports genuine understanding of materials rather than regurgitation of facts.
EARS: Teachers carefully adjust the pitch, tone and warmth of their voices to draw children's attention, particularly in training them during recitation of poems, singing songs and telling stories.
BODY: Using their hands and legs, younger students are able to mimic the shape of letters with actions that are familiar to them. Kinetic actions are often incorporated into class activities.
MIND: Children are encouraged to develop creative thinking and reasoning abilities by solving problems and relating topics to their own lives.
Discussing the motivation behind Scholar Base's new faculty-centred approach, Poh Lee explained:
"Our teaching approach not only appeals to a range of learning styles, but also serves to keep students stimulated and challenged as they learn."
William Chin, director, added:
"Eyes and ears are overly employed in conventional learning. If hands and legs complement them, then learning would never be boring and mundane."
With periodic recognition of improvements and efforts, children are in competition to keep up with their peers and are challenged to progress to a higher level. Scholar Base reinforces progress in the classroom by rewarding achievements, which in turn builds self-esteem and confidence in students.
William concluded the interview by saying:
"The objective behind Scholar Base's new approach to teaching is for children to derive pleasure from learning, as opposed to pressure, and to develop skills that add real value to their life and support them on a higher educational journey."
For more information, visit the Scholar Base website here: http://www.scholar-base.com
About Scholar Base:
Founded in Malaysia in 2005, Scholar Base takes a holistic approach to learning, offering children supplementary English Literature education with an emphasis on the creative side of literacy.
Scholar Base's teachers use a range of faculties to ensure that children enjoy learning and developing reading, writing and thinking skills. Now with three chapters, Scholar Base is gaining reputation in Kuala Lumpur as an enrichment centre, which develops skills in children for long-term academic success.
More information can be found at http://www.scholar-base.com.