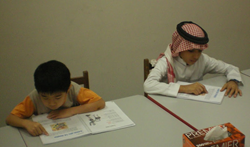 Children who grow up happily in a fun environment are healthier emotionally, ahead in their social skills, and have higher EQ.
Kuala Lumpur, Malaysia (PRWEB) April 08, 2014
A leading child development centre, Scholar Base, responds to the current trend towards homeschooling in Malaysia by introducing a new learning approach, which offers a necessary supplementary education for these children. More information about Scholar Base and its holistic learning programmes can be found at http://www.scholar-base.com.
Recent figures from the U.S. Department of Education indicate that approximately 1,770,000 students are homeschooled, which amounts to 3.4% of the school-age population. Homeschooling, which is the fastest-growing form of education in the United States (Source: NHERI), is now becoming increasingly popular in Asia, too.
Malaysia's growing trend towards homeschooling for children has received widespread media coverage recently. The New Straits times reports that technological advances, which make courseware available online, are causing more parents to turn to homeschooling in order to take an active role in designing their children's education.
Poh Lee, Scholar Base's programme director, explained that although there are inadequacies in the current mainstream education system, parents wishing to homeschool their children may face challenges and obstacles. Homeschooling demands the commitment of one home parent, which may be a constraint and not financially viable. Furthermore, parents often lack the specialised knowledge required to facilitate their children's academic development. Ms. Lee, commented:
"Parents turning to homeschooling realise that the current education system may not suit their children, as it ignores each individual child's abilities and learning pace. However, homeschooling demands a large amount of time, skill and knowledge, which can present its own set of challenges for parents. Moreover a small teacher-student ratio may not be motivating or conducive to learning, as it lacks competition and peer influence."
Scholar Base's new approach to learning responds to the inadequacies of the current education system, allowing children to learn at their own pace and focusing on each child's learning ability. With small class configuration and a teacher-student ratio of 1 to a maximum of 10, the specialised attention that each student receives in an induced competitive environment is conducive to effective learning.
Poh Lee, added:
"Scholar Base's approach to education is inclined towards creativity, rather than rote learning. Children are encouraged to think beyond text and have the moral courage to make mistakes."
Scholar Base's unique curriculum allows children to expand their imagination, satisfy their curiosity, and improve their confidence. Scholar Base's learning programmes focus on children's developmental stages, including:

Improving focus and concentration
Nurturing the right attitude to learning
Developing reading and writing ability
Developing thinking skills – logical, creative and critical thinking
Enhancing express-ability and articulation skills
Developing confidence and healthy self-esteem
William Chin, director, added:
"Scholar Base incorporates English Literature in the curriculum, to let children have secondary experience through the stories. They also develop their literacy skills through reading, writing, acting and communicating in a mentally stimulating and fun environment."
Children discuss and debate certain issues relevant to the literature and relate these to their own lives. They are guided to reason and analyse, and encouraged to express their opinions intellectually; all of which set a foundation for problem solving and critical thinking abilities.
Mr. Chin concluded the interview by saying:
"Children who grow up happily in a fun environment are healthier emotionally, ahead in their social skills, and have higher EQ. This is an opportunity that every child should have today."
For more information, visit the Scholar Base website at: http://www.scholar-base.com.
About Scholar Base:
Founded in Malaysia in 2005, Scholar Base takes a holistic approach to learning, offering children supplementary English Literature education with an emphasis on the creative side of literacy.
Scholar Base's teachers are dedicated and specially trained to ensure that children enjoy learning and developing reading, writing and thinking skills. Now with three chapters, Scholar Base is gaining reputation in Kuala Lumpur as an enrichment centre, which develops skills in children for long-term academic success.
More information can be found at http://www.scholar-base.com.