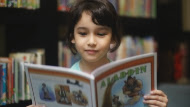 The year-end programme immerses children in an exciting world of reading, keeping them occupied with mentally engaging stories and allowing them to develop confidence through public presentations.
Kuala Lumpur, Malaysia (PRWEB) December 08, 2014
Child enrichment centre, Scholar Base, today announces its 5-week holiday programme, designed to cultivate reading habits in children during their school holidays. Scholar Base has released a free video with presentation slides, offering parents advice for working with their children to develop important reading habits at home - the video and slides are available now at http://scholar-base.com/develop-reading-habit/.
Electronic devices such as iPads, TVs, computers and smartphones may seem like harmless household mainstays, but they actually pose a very real threat to children's interest, development and behaviour. The American Academy of Pediatrics (AAP) has issued a warning to parents, advising against screen time for young children, citing concerns about delays in language development and disrupted sleep (source: Time, 2011). Furthermore, research by the Cohen Children's Medical Center of New York showed that children who play non-educational games on responsive, touch-screen devices receive lower verbal scores in developmental tests (source: Forbes, 2014).
Scholar Base has spoken of the danger that electronic devices pose to children's development, particularly over holiday periods when children lay idle and fill their time with unproductive activities like watching TV or playing computer games. An article published by the development centre on the subject can be found at http://scholar-base.com/electonic-devices-affect-childrens-development/.
While many parents would like to encourage their children to spend less time with these "Trojan Horse" devices by reading books for enjoyment, they face challenges with the distraction that electronic gadgets pose to their children. Scholar Base's holiday programme is designed to circumvent such challenges by introducing children to the exciting world of storybooks. The programme keeps children occupied in a mentally stimulating and fun environment during the school holidays. Children will read stories and participate in activities related to their storybooks, including peer discussion, writing and dramatic interpretations of stories. The 5-week programme will culminate in a public performance by Scholar Base students.
Programme director, Poh Lee, commented:
"At the end of the holiday programme, children will be given the chance to bring the characters that they've come to know through their storybooks to life." She continued:
"In addition to offering the young children excitement, these dramatic presentations are particularly important for improving children's interpersonal skills and boosting their confidence in their public presentation abilities."
William Chin, director, explains that reading plays a crucial role in children's development and it's important that parents encourage this habit in their children when they are out of the classroom for the school holidays.
Mr. Chin commented:
"The Scholar Base year-end programme offers a perfect way for parents to immerse their children in the thrilling world of reading, keeping them occupied with engaging stories while offering ample time for relaxation during the holidays."
Scholar Base encourages parents to participate in developing reading habits with their children at home. The enrichment centre has released a free video and downloadable presentation slides to offer parents the information they need to work with their children to form these important habits. The video and slides are available now at http://scholar-base.com/develop-reading-habit/.
About Scholar Base:
Founded in Malaysia in 2005, Scholar Base takes a holistic approach to learning, offering children supplementary English Literature education with an emphasis on the creative side of literacy.
Scholar Base's teachers use a range of faculties to ensure that children enjoy learning and developing reading, writing and thinking skills. Now with three chapters, Scholar Base is gaining reputation in Kuala Lumpur as an enrichment centre, which develops skills in children for long-term academic success.
More information can be found at http://scholar-base.com/.