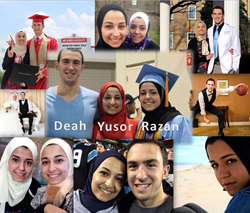 Losing Deah and his wife and sister was a heavy blow to both the Chapel Hill University and the surrounding community
Raleigh, NC (PRWEB) May 26, 2015
SureVest and Erie Insurance announced a fundraising initiative to memorialize the three young people tragically killed near the University of North Carolina in Chapel Hill earlier this year. Deah Shaddy Barakat, Yusor Mohammad Abu-Salha, and Razan Mohammad Abu-Salha were well known in academic circles, and were actively involved in the Chapel Hill community.
Deah Barakat, along with his wife Yusor Abu-Salha and her younger sister Razan Abu-Salha, worked closely with Habitat for Humanity, erecting permanent homes for the underprivileged in low-income communities. In addition, the trio offered dental services to poor and low-income individuals, and together they accomplished and contributed more than many people do in a lifetime.
To honor the memory of this loving family, SureVest and Erie Insurance have pledged to help establish the Deah-Yusor-Razan Scholarship Endowment Fund in the hopes that future students and community members will remember, and replicate, their charitable endeavors.
SureVest's compassionate senior account manager, Liz Teague, has been directly in contact with Dr. Abu Sahla, and reports how his ability to remain faithful and purposeful has impacted lives within the agency and the community. She says the entire SureVest team is vested in, through this scholarship, immortalizing the charitable spirit of that loving family - allowing their noble principles and initiatives to live on.
"Losing Deah and his wife and sister was a heavy blow to both the Chapel Hill University and the surrounding community," says Chris Clark, Managing Member of SureVest. "Once the corporate offices of Erie learned that the family members were Erie-insured, the company contacted our agency immediately, offering active and significant support to the cause. Their promptness in participating of something so meaningful to our local community confirmed our great appreciation for what Erie stands for, as a company, and reiterated why our agency is so partial to them in our daily operations," he added.
SureVest and Erie Insurance are investing both time and resources in raising awareness and donations for the Deah-Yusor-Razan Scholarship Endowment Fund. In fact, Erie Insurance made a generous $5,000 donation towards the Fund. By employing an extensive network of personal and professional contacts, such as customers, friends, family, and referral partners, as well as utilizing a vast online and social media network, SureVest and Erie are spreading the word about the Scholarship and actively seeking contributions.
Those interested in supporting the Deah-Yusor-Razan Scholarship Endowment Fund are encouraged to visit the page managed by SureVest and Erie Insurance, and make a donation.
In addition to assisting with the Deah-Yusor-Razan Scholarship, the agency has committed to an ongoing effort of supporting community members and organizations defending worthy causes. To learn more about the charities throughout the Chapel Hill, Raleigh, and Charlotte areas that SureVest and Erie have supported, visit their Community Cause page here.
About SureVest
SureVest understands that no individual carrier offers all the products everyone needs. They have formed close relationships with a wide variety of insurance companies that allow them to locate the very best product for specific needs, at the best price. Through their comprehensive insurance management review they let clients know if there are gaps in their protection. They also let clients know when there is no need for change. It's all part of their dedication to earning client's trust. Call 866.632.1531 today to speak with an agent.