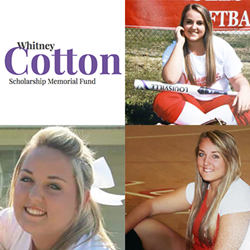 Losing Whitney has been a blow to everyone in our community, our heart goes out to her family, and we are going to do everything we can to help establish the Whitney Renee Cotton scholarship fund
Cullman, AL (PRWEB) October 12, 2016
Colvard Insurance Group, an Alabama-based insurance and financial planning consultancy serving communities throughout the Birmingham and Huntsville regions, is embarking on a charity effort to raise donations that will be used to establish the Whitney Renee Cotton memorial scholarship fund.
Whitney Renee was a 17-year-old girl who loved cheerleading, sports, and the outdoors before she tragically passed away as the result of an automobile accident in April of this year. Whitney is survived by her family, and her parents are overseeing the establishment of a local scholarship fund in her name that they hope will keep her memory alive in the local community.
"Losing Whitney has been a blow to everyone in our community, our heart goes out to her family, and we are going to do everything we can to help establish the Whitney Renee Cotton scholarship fund," says Clay Colvard, owner and principal of Colvard Insurance Group.
Utilizing an interactive social media platform and a community-wide email update system, Colvard and his team are building bridges between local civic leaders, educators, and families in an effort to gather support for Whitney's scholarship. The Colvard team will also be producing a feature article with details on the charity drive in an upcoming edition of the firm's webzine "Our Hometown": http://www.colvardinsurance.com/Our-Hometown-Magazine_39.
Nearly half a dozen charities across northern Alabama have received direct assistance from the Colvard Insurance Group since the beginning of the year. Colvard and his team recently became members of the "Agents of Change" charity involvement movement, and plan to continue assisting additional Alabama charities at the rate of one every other month.
Anyone that would like to join the Colvard Insurance team in their efforts to establish the Whitney Renee Cotton memorial scholarship fund is invited to take direct action in support of the cause by visiting this page: http://www.colvardinsurance.com/Keeping-Whitney's-Spirit-Alive_16_community_cause. Details regarding past charitable events sponsored by the Colvard Insurance Group are available on the agency's Community Causes page: http://www.colvardinsurance.com/community-cause.
About Colvard Insurance Group
Clay Colvard has been managing his insurance agency for years, and his deep connection to northern Alabama gives his team a unique ability to provide clear and understandable insurance and financial services and advice to both businesses and families. Colvard Insurance is here to help you protect the things that are important – your family, home, car, boat and more. Clay and his team can also healp you build a plan to reach your financial goals. To speak with a helpful and knowledgeable expert from the Colvard Insurance Group, please visit http://www.colvardinsurance.com/ or call 256-739-5555.