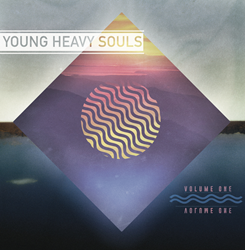 Having access to SAE's SSL board to mix 'Happy Endings' allowed me to leverage my classroom education in a real world production scenario, and also to give the track an incredible sound, feel, and quality.
San Francisco, CA (PRWEB) April 24, 2014
SAE Institute San Francisco Audio Technology Program student Amy Cherette created two tracks for "Volume One", a critically acclaimed album of diverse electronic music collaborations. "Volume One" was released on February 20 by Young Heavy Souls (YHS), a Detroit-based record label and artist collective of musicians, filmmakers, photographers, and graphic designers.
"The producers who are featured on 'Volume One' explore progressive sub-genres of hip-hop and electronic music," says Matt Black, creative director and founder of Young Heavy Souls.
"Amy's past involvement with YHS, along with her impressive composing, engineering, and production skills, made it a no-brainer for her to be an integral part of the album."
"Volume One" features 20 original compositions by 13 musicians that were created over five months. It's available on Spotify, Soundcloud, and Bandcamp, and is "guaranteed to broaden, expand, and refine your musical taste" according to influential music blog CuratedMusic.com. Cherette's contributions – credited to her performance moniker Duktap - include "Happy Endings", a dreamy, ambient track that she wrote in her bedroom and mixed on SAE's SSL Aws900 board; and "Buchanan Beach", an energetic future beat collaboration with drummer/producer Ty Beat. Cherette's production with Ty Beat was created via file sharing, collaborative software, and phone calls.
"I was attracted to the 'Volume One' project because YHS is a very forward-thinking label," says Cherette, who's originally from Grand Haven, MI and is now living in the Bay Area.
"They're focused on art and music as a foundation to connect and inspire people, and I have a lot of respect for their dedication to Detroit and Detroit-based artists."
Cherette will be graduating from SAE in 2014 with a Diploma in Audio Technology. She's a winner of SAE's Tom Misner Opportunities Scholarship, which is awarded to "a full-time student who is both hard-working and passionate about creative media."
"My SAE experience will be a huge asset when I graduate and start looking for job opportunities in the Bay Area as an engineer," says Cherette, who began her studies at SAE in the fall of 2013.
"Having access to the school's SSL board to mix 'Happy Endings' allowed me to leverage my classroom education in a real world production scenario, and also to give the track an incredible sound, feel, and quality."