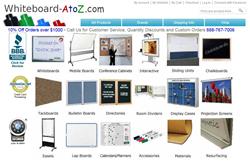 Russellville, KY (PRWEB) August 07, 2014
Whiteboard A to Z wants to make educational lessons as effective as possible—whether a teacher or administrator needs superior-quality whiteboards such as Claridge or Quartet whiteboards, trophy cases, chalkboards, or tack boards, Whiteboard A to Z has everything needed to outfit a classroom and school with the tools for a successful and fun academic year. Preschool through college students can benefit from Whiteboard A to Z's visual display tools.
Whiteboard A to Z also offers an extremely extensive array of other tools that will help students learn—it's been proven that many students, from preschoolers to college students, learn subjects more easily when there is visual stimulation to accompany the lesson. That's where Whiteboard A to Z can help: It offers mobile boards that flip over, conference cabinets that fold up to reveal a useful tack board, interactive boards that come with a wall mount and a projector as well as those with a high-quality 70" diagonal LED touchscreen, projection screens, easels, lap boards, calendars, planners, and much more.
Additionally, some items come at a reduced price—for example, the Best-Rite OneBoard 9437G, a first-rate interactive whiteboard, is now over 50% off—possibly one of the best deals on the web. Lastly, Whiteboard A to Z offers a 10% discount on any orders over $1,000.
About Whiteboard A to Z
Whiteboard A to Z, a division of KD Specialty Contractors, Inc. has been in business since 1999 and started Whiteboard-AtoZ.com to serve more people over the internet by offering excellent products at great prices. Their website was designed to be easy and user-friendly. Freight quotes can be instantly calculated at check out so there are no hidden costs or waiting time.
Whiteboard A to Z has installed their products in hundreds of schools, businesses and churches. They can customize almost any product in their inventory, so if you don't see exactly what you are looking for, they can help you order the features you need. The top online whiteboard supplier, Whiteboard A to Z offers the most popular brands including Quartet, Best Rite, AARCO, and Claridge.
Whiteboard A to Z
215 Devasher Road
Russellville, KY 42276
(888) 767-7006
Website: http://www.whiteboard-atoz.com/
Facebook: https://www.facebook.com/whiteboarda2z