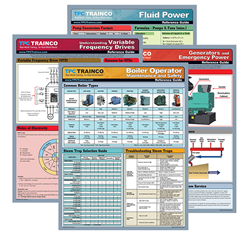 The reference guides highlight the essential concepts that students need to have every chance for success, both in the classroom and after graduation. - Pete Heinrich, Senior Account Manager
Buffalo Grove, IL (PRWEB) June 06, 2017
Schoolcraft Publishing, a leading provider of industrial and vocational course materials, recently began offering laminated industrial reference guides. These new 6-page comprehensive resources better equip students by providing instructors with a useful course take away that includes critical formulae, diagrams, specifications and more from popular technical subjects.
These new laminated reference guides make learning technical subjects easier by providing students with each key take-away on challenging technical topics. Each of the 10 available reference guides cover important technical concepts that are covered throughout a technical education program. These handy reference guides were designed for students to use during classroom lectures, homework & projects, and even after graduation with any reference materials on-the-job.
Schoolcraft Publishing's new reference guides cover the following technical topics:

Basic Electricity
Boiler Operator
Electrical Safety
Electrical Troubleshooting
Fluid Power
Generators and Emergency Power
HVAC/R
The National Electrical Code
Pump Repair
Understanding Variable Frequency Drives
"From the basic fundamental concepts, to more advanced tables and diagrams, all critical information is included on these quick reference guides," said Pete Heinrich, Senior Account Manager. "The reference guides highlight the essential concepts that students need to have every chance for success, both in the classroom and after graduation."
These industry-validated reference guides have been trusted by instructors at, Schoolcraft Publishing's affiliate, TPC Trainco for over 13 years to provide companies and their trainees a recap of important topics covered in training seminars. Now available as a versatile tool for schools, instructors can purchase these 6-page 8.5" x 11" laminated reference guides for their students by contacting a Schoolcraft representative.
For additional information about Schoolcraft Publishing visit http://www.schoolcraftpublishing.com. You can also contact us at 800-837-1255.
About Schoolcraft Publishing: Schoolcraft Publishing is a privately held company, with headquarters in Buffalo Grove, IL. As the educational affiliate of TPC Training Systems, Schoolcraft Publishing benefits from TPC's extensive library of industrial skills training resources to provide training, teaching, and learning materials for industrial education and safety training programs across many industries.