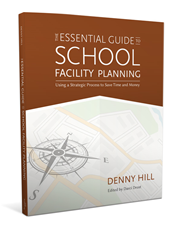 This guide does an exceptional job defining and explaining each step of the process in great detail.
Denver, Colorado (PRWEB) August 25, 2016
Newly released, The Essential Guide to School Facility Planning is an informative guide that helps school districts maximize their resources by providing a step-by-step process for creating a strategic plan that will meet students' needs both now and decades into the future. Author, Denny Hill, has lived and breathed school district planning for 30 years and believes that, "If our children are our future, then our education system is the foundation of that future."
Hill knows first-hand the challenges faced by school superintendents, school boards and other educational planners–those who are on the front lines and make the tough decisions about the future of educational systems. Hill was first in the hot seat as a staff member of one of the fastest growing school districts in the nation. As a decades-long consultant to school districts throughout Colorado and neighboring states, he has been sought out for his thorough understanding of both large and small districts with expanding and contracting enrollment concerns. A strategic plan–the foundation upon which to build–must provide for managing inevitable changes. His experience in predicting and preparing for those changes is invaluable to school districts as they develop or update their roadmaps to the future.
A school district planner's go-to guide, Hill's book is a compilation of lessons learned over those many years, culminating in a concise strategic planning methodology called The Capital Facility Planning Process™. It pilots both the new and seasoned planner through seven concise steps of planning – from the situation audit through managing and monitoring the plan. Hill's insightfully-developed, step-by-step process addresses all aspects of planning including educational specifications, funding, and even construction considerations; it incorporates actual examples of good decisions as well as pitfalls to avoid. The book abounds with informative charts and graphs, case studies, specific tools helpful to the process, and sage advice.
"This guide does an exceptional job defining and explaining each step of the process in great detail," commented Stephanie Watson, Assistant Superintendent for Weld Re-4 in Colorado. "The examples provide reference points that planners can use as nuggets of wisdom, that is, things to do and things to avoid. I wish I would have had this guide as I assumed responsibility for this important facet of the district!"
The Essential Guide to School Facility Planning is available on Amazon.com. Visit http://www.schoolplanningadvisor.com to learn more about the book and the author, as well as how to receive a rebate on the purchase of the book through September 30, 2016.
About the Author, Denny Hill
For more than 30 years, Denny Hill's work has focused on laying a great foundation for education – literally. Referring to himself as a "Schoolonomist" he advises and assists school districts with strategic and facility master planning to optimize results. Through the company he founded in 1996, Strategic Resources West, Inc. (formerly Western Education & Public Planning), Denny has developed an approach that is both flexible and focused, to assist with the creation, design, or redevelopment of K-12 educational facilities. His comprehensive process enables school districts to successfully identify and address not only their most pressing needs, but to forecast and prepare for what lies ahead. Today, Denny works as advising consultant for his company, School Planning Advisory Services, helping superintendents, CFOs and key personnel navigate through big picture facility and site planning issues while monitoring details that often get overlooked. Visit his website at http://www.schoolplanningadvisor.com.