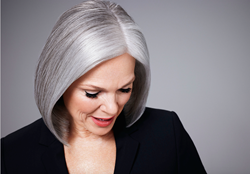 "With the launch of IGORA ROYAL ABSOLUTES SILVERWHITE, Schwarzkopf Professional makes it so easy and simple to create true sparkly silver and grey color."
Los Angeles, CA (PRWEB) January 25, 2016
Now silver is worth its weight in gold: An electrifying sheen and fine touches of silver – who knew that white hair could be this beautiful? Schwarzkopf Professional now enables ladies with mature, untreated hair to enhance their natural silver.
In March 2016, Schwarzkopf Professional will be expanding its IGORA ROYAL ABSOLUTES product line with the launch of IGORA ROYAL ABSOLUTES SILVERWHITE. Positioning itself as an expert in optimizing undyed natural hair, Schwarzkopf Professional aims to enable customers with mature, untreated hair to enhance their natural silver tones. IGORA ROYAL ABSOLUTES SILVERWHITE offers a range of pure silver shades, offering mature hair the care it needs, as well as setting a trend towards embracing grey shades.
IGORA ROYAL ABSOLUTES SILVERWHITE emphasizes the beauty of your natural hair color, and quickly perfects customer's personal shade of silver. Turn yellowish, matte hair into a silky, shining silver, which lasts for up to twenty-five washes.
"I find true silver and grey hair to be one of the most difficult to mimic, as it is hair with diminished melanin pigment. I have been searching and experimenting with practically every 'Fifty Shades of Grey' brands. With the launch of IGORA ROYAL ABSOLUTES SILVERWHITE, Schwarzkopf Professional makes it so easy and simple to create true sparkly silver and grey color. There is no worry about hair going too ashy dark, or picking up unnatural tones of blue or purple. The result is beautiful, healthy looking tones of silver and slate, with a little spice if needed," says Rick Wellman, Schwarzkopf Professional Color Ambassador, and Hue Director at SAHAG workshop.
IGORA ROYAL ABSOLUTES SILVERWHITE
The range is available in four different shades: Silver, Dove Grey, Slate Grey and Grey Lilac. The transparent effect brings out the natural silver sheen, and grows out virtually seamlessly at the hairline. At the same time, the siliamine and collagen complex builds up the hair, restoring its youthful freshness. Schwarzkopf Professional offers its customers two different in-salon treatments to beautify white hair.
IN-SALON SERVICES INCLUDE:
REFINING TREATMENT
Enhance the natural shade of white with a subtle silver sheen, for a soft and delicate result. The additional care treatment combined with color enhancement, takes ten minutes.
TONAL REFINING
For customers who want an even softer end result, Schwarzkopf Professional offers a second application. Silver added to customer's Tonal Refiner reduces the intensity of the shade, and gives a soft silver sheen in twenty minutes.
Schwarzkopf Professional's unique application technology enables customers to fit these short, yet productive beauty treatments into their everyday lives: The IGORA ROYAL ABSOLUTES SILVERWHITE Signature Brush gently works the products into the hair for a natural and multifaceted result in just 10-20 minutes, depending on the selected treatment.
The two treatments are supplemented by the IGORA ROYAL ABSOLUTES SILVERWHITE BRIGHTENING SPRAY, which freshens up the look between the two treatments. It brightens untreated, white hair within minutes, and removes all yellow hues from the hair. The non-oxidizing formula with vitamin C neutralizes the grayness and perfects naturally white hair in thirty minutes, or the express treatment can be completed in just fifteen minutes.
IGORA ROYAL ABSOLUTES SILVERWHITE and in-salon services will be available in Schwarzkopf Professional partner salons beginning March 2016.
###
About Schwarzkopf Professional
Schwarzkopf Professional, part of the Beauty Care business unit of Henkel Consumer Goods, has been a leader in the salon industry for the past 116 years. Established as a global leading supplier in the hairdressing business; Schwarzkopf Professional offers brands and technologies that make people's lives easier, better and more beautiful. Based on a professional partnership with the hairdresser, Schwarzkopf Professional focuses on providing innovative concepts and services, which match the needs of their International salon clientele.
Schwarzkopf Professional is present in over 80 countries. Well known International brands include; BLONDME (blonde color, care and styling), leading brand IGORA ROYAL (color), ESSENSITY (color), BC BONACURE (care), and OSiS+ (styling). Schwarzkopf Professional's mission statement, "Together. A Passion For Hair" is their point of difference, and is the unique pulse which unites their business with their salons and consumers. Their daily goal is to bring that passion for hair to life.
Henkel Consumer Goods operates worldwide, with leading brands and technologies in three business areas; Laundry & Home Care, Beauty Care and Adhesive Technologies. Founded in 1876, the company has some 47,000 employees and holds leading global market positions in both the consumer and industrial businesses, with well-known brands such as; Persil, Schwarzkopf, and Loctite.
For additional information, please visit our website at Schwarzkopf-ProfessionalUSA.com. For up to the minute news on all things Schwarzkopf Professional, follow @SchwarzkopfUSA on Instagram and Twitter, and also connect with us on Facebook at: Facebook.com/SchwarzkopfProfessionalUSA.