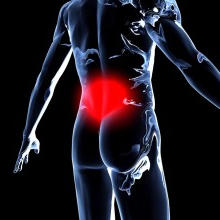 Chronic pain must be treated locally to achieve tangible success, and Dr. Allen's Devices are able to help people to get rid of sciatica, angina and CPPS.
London, GB (PRWEB) October 20, 2013
Origin of Diseases Theory developed by Dr. Simon Allen has helped him to create an independent treatment for chronic internal conditions, i.e., Thermobalancing therapy, which with the help of specially designed devices provide substantial pain relief locally. Thus, for sciatica relief the device treats the inflamed Sciatic nerve, for angina relief another device increases the blood flow through coronary arteries and in order to get rid of chronic prostatitis and CPPS the device improves blood circulation inside an affected prostate, Fine Treatment reveals.
At the same time, because of difficulties with a treatment of chronic diseases, many medical professionals try to find a key option for it in mind. For instance, the recent article in Psych-Central 'Unpack Your Emotional Baggage to Help Your Body Heal', on October 19, 2013, states that according to experts in mind and body medicine, our emotions affect our bodies because they're linked to our bodies via our immune, endocrine, and central nervous systems. Just as a broken heart affects our heart and can lead to death, what we feel affects our body and how effectively it works.
However, according to the study supported by National Institutes of Health (NIH), 'Is treating chronic pain torture? Internal medicine residents' experience with patients with chronic nonmalignant pain', by Chen JT et al, 2007, "Residents in this setting found chronic nonmalignant pain (CNMP) management to be difficult. They lacked confidence in managing CNMP and did not gain confidence over the course of training."
By applying Dr. Allen's therapeutic device straight to the affected area, the users achieve profound pain relief within a short period of time. Positive customer feedback (see the website Fine Treatment) is the best proof of the efficacy of Thermobalancing therapy. For instance, Alisa, 72, from California, says that after 5 months of using Dr. Allen's therapeutic device, the debilitating pain and the severely impaired ability to move are gone without resorting to medications.
Furthermore, please watch a video-testimonial showing a Fine Treatment's customer who had been suffering from chronic prostatitis with CPPS for over 4 years, while taking antibiotics, and who subsequently recovered in 5 months at home by wearing Dr. Allen's therapeutic device: http://www.youtube.com/watch?v=Sx1xfwwA5KI.
"Users of Dr. Allen's Devices experience their symptoms relief in a short period of time," says Dr. Simon Allen. "Chronic pain must be treated locally to achieve tangible success, and Dr. Allen's Devices are able to help people to get rid of sciatica, angina and CPPS."
For more information, please visit the Fine Treatment website:
http://finetreatment.com/lower-back-pain-treatment-lumbago-relief/.
About Dr. Simon Allen and Fine Treatment:
Dr. Simon Allen, MD, PhD, Academician, member of the ATA, is a highly experienced medical professional. His specialty is in the internal medicine. He has treated a wide range of chronic diseases, including patients after a heart attack, with kidneys problems, including kidney stones disease, prostate and spine conditions, as well as metabolic disorders. Fine Treatment exclusively offers Dr Allen's devices for chronic prostatitis and BPH treatment, coronary heart disease, dissolving kidney stones, as well as back pain and sciatica relief.