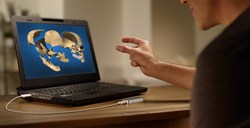 Utilizing gaming technology and interactive content, the user learns by doing. Research shows that is a vital step in achieving scientific understanding. - Rich Lineback, President of Cyber-Anatomy
Coralville, IA (PRWEB) July 31, 2013
Today, Cyber-Anatomy Corp., a leader in 3D interactive educational science software, announced the launch of its new free app Cyber Science Motion for the Leap Motion Controller. Users can experience a 3D interactive skull dissection and reassembly app that is both fun and educational.
Interactive 3D Anatomy App for Leap Motion
Since the motion sensing device was first released on July 22nd, the free Cyber Science Motion App has been downloaded by thousands of people from around the world on the Leap Motion app store, AirspaceTM Store. Cyber Science Motion helps people learn human anatomy in a unique, immersive and fun way. For using 3D motion control in education, the Cyber Science Motion App is just the beginning.
Click here to see a video tutorial of Cyber Science Motion
Rich Lineback, President of Cyber-Anatomy said, "The human skull reassembly App comes from a library of over 400 3D simulations available in our Cyber Science 3D product. Utilizing gaming technology and interactive content, the user learns by doing. Research shows that is a vital step in achieving scientific understanding."
What's Leap Motion?
The Leap Motion Controller is a USB device that connects to a PC or Mac and allows a user to control their computer with natural hand and finger motions at up to 1/100th millimeter accuracy. It retails for $79.99 at http://www.leapmotion.com and is now available at Best Buy as well. The 3D interactivity Leap Motion provides is a great complement to the educational content that Cyber-Anatomy has been developing since 2007.
What's Cyber Science Motion?
After installing, players are taken through a series of tutorials on how to interact with the 3D rendered human skull. The first tutorial shows how moving a hand above the sensor, palm down, causes the virtual skull to nod its head.
Upon completion of the software tutorial and after working in a self- paced mode to dissect the skull, the user is introduced to the first of 13 skull reconstruction stages. The stages require assembling fragments with nothing more than slight hand gestures and pointing at the screen in a race against the clock. Each phase of the game presents more fragments and less time. Successful completion of each level rewards the player with points and stars based on performance.
Where can I get Cyber Science Motion?
If you are interested in finding out more about Cyber Science Motion, it is now available for free at: https://airspace.leapmotion.com/apps/cyber-science-motion.
About Cyber-Anatomy®
Cyber-Anatomy Corp. is a leader in 3D interactive educational science software. Cyber Science Motion is a human skull dissection and reassembly app developed by Cyber-Anatomy for use with the Leap Motion controller on a Mac or PC. The 3D human skull is part of an 3D Anatomy module in a full-featured product called Cyber Science 3D which is used globally by K-12 students and teachers for science lessons on Astronomy, Botany, Chemistry, Earth Science, Human Anatomy, Mechanical, Microbiology, Paleontology, and Zoology. Cyber-Anatomy® Corp. is a privately held business based in Coralville, Iowa. For more information, visit http://www.cyberscience3d.com and http://www.cyber-anatomy.com.