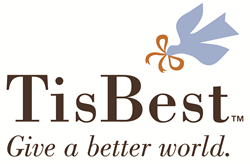 The Science of Giving series will allow us to share some of what we've learned in our journey to understand why people give.
Seattle, WA (PRWEB) April 16, 2014
TisBest Philanthropy announced today the launch of a six-month educational blog series called The Science of Giving. TisBest Education Manager Karli Larson will share insights into recent cutting-edge research on generosity and altruism.
"We've made it a priority to understand what happens in the brain when people behave altruistically," said Larson. "This information has helped us develop a strong education program for elementary school students, DiscoverGiving, which gives students a hands-on experience with philanthropy. It was important that the DiscoverGiving program help reinforce the intrinsic motivations behind altruism, providing a firm foundation for students to develop a lifelong relationship with generosity."
The Science of Giving series will be an overview of the research Larson and her colleagues used to develop DiscoverGiving, as well as additional information designed for a general audience that will provide a layperson's look at the complex systems at work in the human brain.
"There is an exciting and growing body of information about altruism that helps researchers understand some of life's most basic questions," Larson said. "What is it that motivates us to act generously, sometimes at great cost to ourselves? How does altruism impact our health, relationships, even our productivity? The Science of Giving series will allow us to share some of what we've learned in our journey to understand why people give. We're thrilled to share this information with our community."
The six-month series kicked off with a blog post that explains the definition of altruism, where altruistic decisions originate in the brain, and how our brains reward us for acting generously. The post also highlights some of the heroic efforts made by Carlos Arrendondo in the wake of the Boston Marathon bombings in 2013 as an example of altruism in action.
Following the completion of The Science of Giving series, TisBest Philanthropy will offer readers a free, downloadable Reader's Guide with additional information about the research studies mentioned during the series and a suggested reading list for those who would like to learn more.
The Science of Giving series is available to the public at http://www.tisbest.org/blog. New posts will be released on the third Tuesday of each month. Click here to read the first post in the series, What we talk about when we talk about altruism: The Science of Giving #1.