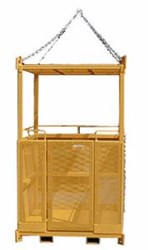 New products are always fun to announce. This is why we are making the crane basket product of the day
Saint Paul,Minnesota (PRWEB) August 15, 2013
What will todays product of the day be, a customer may ask. Playing this game can be very difficult. A Plus Warehouse chooses products from all over the website. There are also many items to choose from. It is difficult to narrow it down to just one product. If a customer were to guess what the product of the day was they would most certainly be wrong. However, to give customers a hint, this product falls under the personnel lift section. This product also happens to be a new item. The product of the day is the crane basket. According to Ed Stairman, president of A Plus Warehouse, " New products are always fun to announce. This is why we are making the crane basket product of the day."
As mentioned earlier, the crane basket is in the personnel lift section. Personnel lifts are an important part of plant maintenance. It is a necessity. Items in this line include but not limited to work platforms, maintenance platform, and the personnel scissor lift. Many customers need personnel lifts and A Plus Warehouse is happy to fill that requirement.
A Plus Warehouse is sure that customers will appreciate the new crane basket. It is an excellent new product. This item is American made. The product also has very quick shipment times. Especially with time being an issue, it is important for customers to get their products as soon as possible. No customer enjoys waiting. The collapsible unit also allows for compact storage and inexpensive shipping. This is both more convenient and less expensive. It is a win-win situation. This new product is excellent for construction sites. It is shown in the picture to the right. Two people can also be lifted with this product because of its 48-inch length. In the standard 36-inch unit only one person can be lifted. A Plus Warehouse also reminds customers that before using crane baskets, it is important to test it with 125% capacity before every single use. This is to comply with OSHA standards. Testing it may seem like a pain, but better safe than sorry. The companies crane basket comes complete with a 1250# test weight and the required harness and lanyard. Safety first is the motto at A Plus Warehouse!
A Plus Warehouse is the operator of http://www.apluswhs.com and distributes materials handling and storage equipment nationwide and throughout Canada. The sales staff at A Plus Warehouse is available at 800-209-8798. A Plus Warehouse has been in constant operation since 1996.