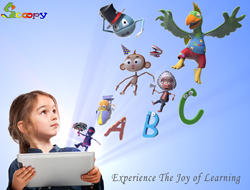 Make the entire learning process a positive and fun one so kids are excited about education.
New Jersey, United States & Tel Aviv, Israel (PRWEB) May 01, 2014
International company, Refael Productions, raising capital through Indiegogo to launch virtual educational platform for kids. Announcement comes after company tested Scoopy TV among parents, kids and instructors and gained positive reviews. Company aims to use Scoopy TV to bridge the gap between education and technology with a little help from a 3D animated parrot named Scoopy.
Scoopy lives in a futuristic and magical world found inside children's phones, computers and tablets. The idea behind Scoopy is simple – education through entertainment!
Using childish humor, relatable themes and intriguing visual animation and sceneries, Scoopy is able to transform the learning process into a fun pastime.
Scoopy was created in order to embrace and enhance the technological capabilities of children while providing them with the opportunity to learn English in a fun and friendly environment. The trend of incorporating technology in education is relatively new and many educational institutions have not yet fully adapted to the technological world in which kids live. This exact need paired with children technological understanding is what drove Refael Productions to create a medium that will bridge the world of education and technology in a simple, entertaining and affordable way.
Each Scoopy video, which is 4-6 minutes in length, focuses on a set of keywords from a particular theme. The educational content on Scoopy TV is overseen by recognized Pedagogical and Linguistic Consultant Lily Goldstein who says that "by repeating a handful of keywords using both voice and visuals, children are far more likely to internalize and understand the English language." According to Goldstein, another important element that contributes to Scoopy's ability to teach is the fact that "children don't even realize they are learning while watching Scoopy's videos – the only thing they realize is that they are having fun!". Refael Productions CEO Ofira says that the ultimate goal of Scoopy TV is to "make the entire learning process a positive and fun one so kids are excited about education".
In addition to providing children with a safe and friendly platform to learn English, the Scoopy character teaches additional values and skills that are important for children such as healthy nutritional habits, preservation of the environment and many more.
What makes Scoopy such a friendly and relatable character is his imperfections. In addition to teaching English and educational values, Scoopy reminds kids that it is ok to make mistakes and have difficulties as long as they keep trying – because practice is what leads the way to success. Scoopy was tested and positively received by educators, parents, and children alike over the course of 8 months of testing and feedback analysis - That is why Refael Productions believes that Scoopy TV can be the next big thing in education!
The Scoopy TV team is currently raising capital on the popular crowdfunding site Indiegogo. By securing their funding goals, Scoopy TV will be able to provide countless children from all over the world the chance to learn English online from anywhere in the world in a safe, friendly, encouraging, and engaging manner.
About Refael Productions
Refael Productions is an internationally recognized production company catering worldwide brands for almost 10 years. Refael has a leading 3D animation studio and worldwide acting, graphic design, animation and voiceover talents. Scoopy TV is the leading independent project of Refael Productions.
For more information visit:
http://www.indiegogo.com/projects/scoopy-tv-experience-the-joy-of-learning