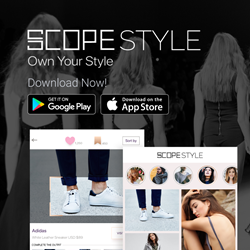 People get frustrated when they see a product they love, but either can't find where to buy it or it's too expensive. ScopeStyle solves this problem. Simply take a picture, search for similar products, and complete your outfit all within your budget.
Vancouver, Canada and Hangzhou, China (PRWEB) June 08, 2017
ScopeMedia Inc., announced today the launch of the ScopeStyle app. ScopeStyle is a visual fashion discovery platform that helps fashionistas and stylists discover thousands of brands, complete outfits, and find similar products to the ones they already love by simply taking a photo anyplace, anytime. By uploading a photo, ScopeStyle will find all similar product styles available online and save it to your StyleCards. ScopeStyle, through the use of artificial intelligence, offers the unique feature of completing an outfit based upon style preferences.
ScopeStyle allows users to build a personalized collection of products that match their style and enables them to seamlessly purchase all in one click. ScopeStyle is available for download today, click here for iOS and here for Android devices.
"People get frustrated when they see a product they love, but either can't find the store to buy it from, or can't afford the actual item," said Dr. Wang, Ph.D. in Human-Computer Interaction, President and Co-Founder of ScopeMedia, "ScopeStyle solves this problem by providing options for where to purchase the item, or it will recommend more cost effective alternatives while allowing the person to create their own fashion marketplace."
ScopeStyle is simple with an uncluttered user interface and elegant design. To start, users select their own personal style and their favorite products. ScopeStyle will then begin using its proprietary algorithms to stream styles that match user settings and search preferences. Users can then follow trendsetters, bloggers, brands, or friends that match their personal look and passion.
ScopeStyle has launched globally with an initial focus on North America and China, where Dr. Wang will hold a key note presentation at the annual Asian Fashion Federation (AFF) China Conference.
About SCOPEMEDIA INC:  
Headquartered in Vancouver, Canada with offices in Beijing and Hangzhou, China, ScopeMedia Inc. is an artificial intelligence company with a focus on using computer vision to create industry specific apps and solutions. This approach allows ScopeMedia to provide vertically integrated products, such as to the fashion industry, by providing real time trend visibility to fashion brands. In cooperation with Canada's top universities, ScopeMedia has led innovation in the both the video and image recognition AI fields since its founding in 2013.
Press Contact:
Andy Kozma
Executive Vice President
andy(at)scopemedia.com